Rare Kentucky Lake Home Presented by Mary Bess Pedigo-Scott: Stunning Year-round Views & Ideal for AirBnb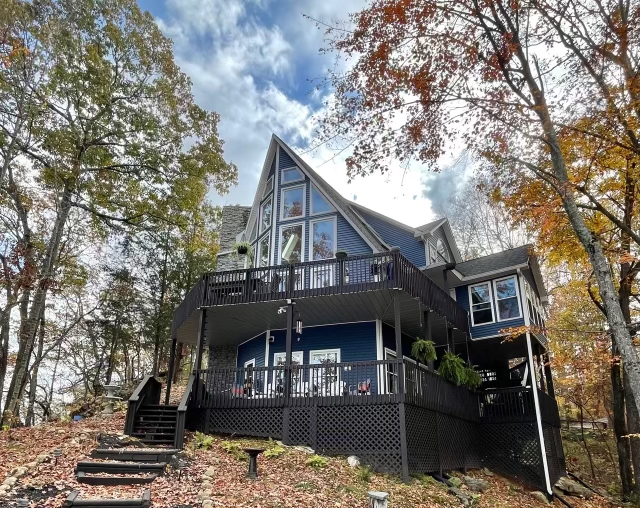 Rare Kentucky Lake Home Presented by Mary Bess Pedigo-Scott: Stunning Year-round Views & Ideal for AirBnb

Welcome to the stunning Kentucky Lake Home, where breathtaking year-round views and an ideal setup for short term rentals await you. This magnificent property boasts a range of amenities that will make you feel right at home, from the beautiful hardwood floors on the main level to the luxurious quartz countertops in the kitchen. With its upper and lower balconies, fire pit, two boat slips, and private stairs leading directly to the slips, this lakefront retreat offers the perfect blend of comfort and convenience.
As you step inside this remarkable home, you'll be greeted by the warm ambiance of the stone gas fireplace, creating the perfect atmosphere for cozy evenings with loved ones. The open floor plan seamlessly connects the living, dining, and kitchen areas, allowing for easy entertaining and creating a sense of togetherness. The soaring ceilings, sky lights and large windows flood the space with natural light, highlighting the exquisite craftsmanship and attention to detail throughout.
The kitchen has a spacious island with a breakfast bar. The quartz countertops add a touch of elegance, while the Sonneman light fixtures provide both functionality and style. Whether you're preparing a gourmet meal or enjoying a casual breakfast, this kitchen is sure to impress.
One of the unique selling points of this Kentucky Lake Home is its Barren River Lake year-round water view. Imagine waking up to the tranquil sight of the lake every morning, with its shimmering waters reflecting the beauty of the surrounding landscape. This point lot location offers privacy and exclusivity, allowing you to truly escape the hustle and bustle of everyday life.
Another advantage of this property is that it is not governed by a homeowners association (HOA). This means you have the freedom to make this home truly your own, without any restrictions or additional fees. Additionally, there are no short-term rental restrictions, making this an excellent opportunity to generate income through short term rentals. Whether you're looking for a full time home, weekend getaway or a long-term investment, this property offers endless possibilities.
For those concerned about security, this home is equipped with an extensive security and surveillance system. You can rest easy knowing that your property is protected, allowing you to fully enjoy the peace and tranquility of this lakeside retreat.
In addition to its stunning interior, this Kentucky Lake Home also offers exceptional outdoor living spaces. The screen/glassed sunroom provides a comfortable and versatile area to relax and enjoy the picturesque views, no matter the weather. Whether you're sipping your morning coffee or hosting a dinner party, this sunroom is the perfect spot to take in the beauty of the surrounding nature.
For those who love to spend time on the water, this property includes two boat slips. Whether you're an avid boater or simply enjoy a leisurely time on the water, having your own slips provides the ultimate convenience. The private stairs leading directly to the slips ensure easy access, allowing you to spend more time enjoying the lake and less time worrying about logistics.
For those with multiple vehicles, the garage offers ample space for parking and storage. Whether you need room for your cars or outdoor equipment, this garage provides the perfect solution plus expandable space above the garage.
Located in southern Kentucky, this lakefront home offers a peaceful retreat while still being within close proximity to amenities and attractions. Whether you're exploring the nearby hiking trails, visiting the charming local towns, or simply relaxing by the lake, there is always something to do and see in this vibrant area.
Don't miss out on the opportunity to own this Kentucky Lake Home with its stunning views and ideal setup for short term rentals. With its unique selling points, luxurious amenities, and unbeatable location, this property is truly a dream come true. Experience the beauty and tranquility of lakefront living and make this home your own. Schedule a showing today and prepare to be captivated by everything this remarkable property has to offer."
Presented by:
Mary Beth Pedigo-Scott