Discover the Top 4 CRMs for Insurance Agents: Streamline Tasks, Boost Client Relationships!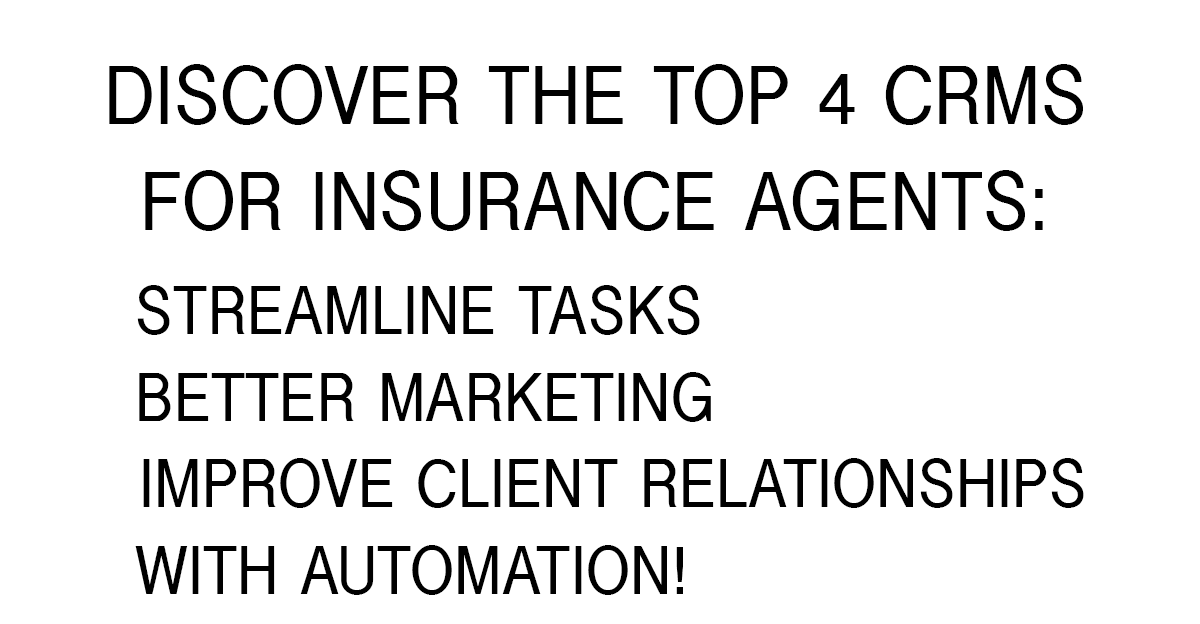 FOR IMMEDIATE RELEASE
Discover the Top 4 CRMs for Insurance Agents: Streamline Tasks, Boost Client Relationships!
New York, NY, September 1, 2023 (
USANews.com
) – In today's fast-paced insurance industry, managing client relationships and streamlining tasks are crucial for success. To help insurance agents stay ahead of the game, we have conducted extensive research to identify the top CRM software solutions specifically designed for insurance agents.
Customer Relationship Management (CRM) software is a powerful tool that enables insurance agents to effectively manage their client relationships, automate tasks, and ultimately boost their career. By utilizing the right CRM software, insurance agents can streamline their workflow, enhance customer satisfaction, and increase their overall productivity.
Our research has identified the four most popular CRMs that insurance agents are currently using. These CRMs have been carefully selected based on their features, user-friendliness, and ability to cater to the unique needs of insurance professionals.
The top 4 CRMs for insurance agents are:
Agent CRM
Agent CRM is much-admired for its user-friendly interface. The fastest-growing CRM for insurance agents has set the bar for customer support, AI integration, pre-built marketing campaigns available to use (for free) and an impressive list of features that they've built out for insurance agents. Agent CRM is the gold standard.


Zoho CRM
Next on the list, we have Zoho CRM. Its versatility sets it apart. With features such as lead generation tools, analytics, and a comprehensive contact management system, Zoho CRM helps insurance agents streamline their operations and achieve better results. Unfortunately their customer support and lack of knowledge about the insurance industry will leave insurance agents looking for better options.
Salesforce CRM
Salesforce CRM is a game-changer, offering advanced features such as artificial intelligence capabilities, automation, and insightful reports. It enables insurance agents to make informed decisions and ensure customer satisfaction. The user experience leaves much to be desired, we're seeing a lot of insurance agents run from Salesforce to other, more user-friendly CRM options.
Pipedrive CRM
Last but not least, we have Pipedrive CRM. This software is renowned for its focus on sales management. By delivering visual reports and effective forecasting tools, Pipedrive CRM specializes in helping you organize your data.
By leveraging these top CRM solutions, insurance agents can streamline their daily tasks, improve client relationships, and ultimately advance their careers. Whether you are a seasoned insurance professional or just starting out, finding the right CRM software can make a significant difference in your success.
To learn more about these CRMs for insurance agents and how they can benefit your career, visit our website
https://blog.agent-crm.com/best-crm-software-for-insurance-agents-top-choices-2023/
. Our comprehensive reviews and detailed comparisons will help you make an informed decision and take your insurance business to new heights.
About Agent CRM:
Agent CRM is a leading provider of insurance software and software reviews. Our team of experts conducts thorough research to help agents make informed decisions and stay ahead in their respective fields. With a focus on delivering accurate and up-to-date information, we strive to empower individuals and businesses to achieve their goals.
###