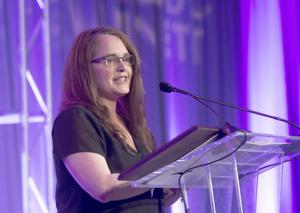 Parkview High School teacher Heidi Campbell grew up around teachers. Her father was an English teacher, all her parents' friends were teachers, and she followed suit.
On Thursday night during the annual Gwinnett County Teacher of the Year banquet, Gwinnett County Public Schools CEO/Superintendent J. Alvin Wilbanks announced Campbell as the recipient of the school system's highest teaching honor.
Campbell is a journalism teacher and 12th-grade British literature teacher. She has taught 18 years in the school district with stops at Brookwood High beginning in 2000 and moving to Parkview in 2015.
"We have a passion for books or else we wouldn't teach this subject," Campbell said. "The key to me is to ignite that passion in kids."
The newest district teacher of the year brings a unique teaching style to her classroom with acronyms such as "ARMPITS" to help her students in poetry. The acronym is broken down into A for alliteration, R for rhyme scheme, M for metaphor, P for personification, I for imagery, T for tone or theme and S for symbolism.
"That's one of the biggest challenges and so I put together a bunch of letters to help them," Campbell said. "I'm not afraid of if they think it's weird because it shows them strategies how to break down poetry."
During the evening, the school district recognized all 137 local school Teachers of the Year including Elementary School Teacher of Year Kelly Specht of Riverside Elementary School and Middle School Teacher of the Year Lindsey Saa of Couch Middle School.
In addition to being the GCPS overall Teacher of the Year, Campbell was also named the High School Teacher of the Year.
Campbell, Specht and Saa were three of the six finalists for the district's overall Teacher of the Year recognition this year. The other three finalists were Meredith White of Peachtree Ridge High School, Juah Nyemade Baker-Marsh of Lovin Elementary School and Chandra Brandel of Coleman Middle School.
The TOTY selection process began at the start of the school year with thousands of teachers from throughout the district nominating and selecting 137 teachers to represent their local schools.
During her speech to the audience, Campbell said an important thing about being an educator was making connections with students.
"Optimal learning takes place when we make a connection with these kids," Campbell said.
Campbell will now compete for statewide Teacher of the Year honors.
She received a $1,000 annual award, a crystal peach, a $500 grocery store gift card, a gift basket, commemorative ring, laptop computer and use of a new car for one year for winning the districtwide recognition.
Specht and Saa each received $750 annual awards, $250 grocery store gift cards and gift baskets for being named the elementary and middle school teachers of the year.