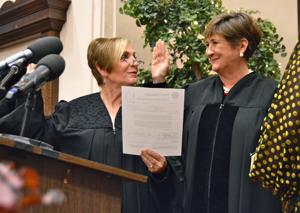 Standing before a packed room in the Gwinnett County Historic Courthouse, Tracey Mason smiled at the men, women and children in front of her, who had turned out on a rainy Thursday night to celebrate the judge-elect's swearing-in.
"Let me tell you, this isn't just about me," Mason said. "I didn't get here by myself, and every one of you contributed in ways I can't even begin to thank you for."
Rattling off the names of her supporters, colleagues, friends and family members, the ninth-generation Gwinnettian proudly showed off her new robe, which will be put to use beginning Jan. 1 as Mason takes over retiring Gwinnett County Superior Court Judge Tom Davis' seat.
One of three new judges in the county — Gwinnett elected two new Superior Court judges and a new State Court judge this year — Mason continues a family tradition of service to the county and the state, which was begun years ago by her great grandfather, James Palmer Mason, who served as a Gwinnett County sheriff from 1938-42, and continued by her father, Jimmy Mason and uncle, Wayne Mason, as well as many others in the family.
"Tracey came into law, I have no doubt, because she knew it was the best vehicle for her to help people," Thomas Andersen, founding partner of Andersen, Tate and Carr, P.C., and a friend of Mason's, said Thursday. "Everybody in the Mason family has a real thirst for public service, and Tracey obviously has that thirst, too."
Mason, who was the only candidate for Davis' seat with prior judicial experience — she previously served as a Municipal Court judge in Duluth — told the Daily Post in April that she will be "fair and equitable" on the bench because she is committed to the county and its residents.
As part of her commitment, she stressed the importance of accountability courts, which she said "get at the root of some of the problems instead of just the event (that occurred), which might be a symptom of the problem."
"I have this concept that when an issue that's ripe for that kind of court appears before a judge, the (judge) should seriously consider that alternative option," Mason said. "If you have that opportunity to create a better life for that person and a better society, you should take it, because those courts can help these people."
Gerald Davidson, an attorney with Mahaffey Pickens Tucker LLP, and a close family friend of Mason's, said Thursday he has no doubt that as judge, Mason will create that better life for the people who appear before her.
"Tracey's election to this position is a continuation of her dad's legacy and commitment to Gwinnett County, but it's also a legacy of devotion to Gwinnett by other members of the Mason family," Davidson said. "I've had the pleasure of working with Tracey on (legal) matters over the years and have been by her side on some personal matters, too.
"I can tell you, at all times, no matter how tough the going, no matter how much pressure was on her or how much stress, she handled every situation with intellect, dignity, humility and grace, and I know that's what she will do as judge of Superior Court. Her experience makes her truly qualified for this position."