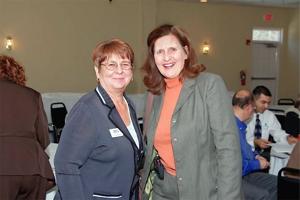 Diana Preston and Johnny Crist were, at one time, political opponents when he ran against the then-incumbent mayor during her re-election bid in 2011, but he had nothing but praise for her during a special recognition earlier this year.
Crist, who succeeded Preston as mayor, stood in front of the City Council and residents in February and highlighted her giving nature and her commitment to the city. The praise came as Crist issued a proclamation declaring that every Dec. 12 would, from now on, be known as "Diana Preston Day" in Lilburn
"Mrs. Preston epitomizes the meaning of selflessness and public service," Crist said during the presentation.
City officials and friends of the former mayor and retired educator again recalled her fondly this week, but this time it was in remembrance. Preston, who was Lilburn's first female mayor, died Monday after a long battle with cancer.
Funeral services will be held at 11 a.m. Monday at St. John Neumann Catholic Church, which is located at 801 Tom Smith Road in Lilburn.
"Our heart is heavy with the loss of another Lilburn community leader's passing," said U.S. Attorney BJay Pak, who previously represented the Lilburn area in the Georgia House of Representatives, on Facebook. "My friend, former Mayor Diana Preston, went to be with the Lord this morning after a courageous battle with cancer. Please pray for her family."
Preston was a Charleston, S.C. native who moved to Lilburn in 1970 and spent 30 years working in Gwinnett County Public Schools as a teacher, coordinator and administrator before she retired from that profession.
Her service to the community didn't stop there, however. She also served on the Lilburn City Council for 22 years before she ran for mayor, and won the office, in 2007. She was defeated four years later by Crist. Over the years, she was also president of the Gwinnett Municipal Association at one time and a member of the Gwinnett Clean and Beautiful Board of Directors.
Lilburn officials said some of her work on the City Council and as mayor included helping to create the Camp Creek Greenway Trail, leading the rededication of Lilburn City Park in 2004, the Lilburn Centennial Celebration in 2010, helping to get the Lilburn Community Improvement District established in 2010 and being involved in early talks on building the joint City Hall and Library building, which opened in 2016.
In more recent years, Preston served on Lilburn's Downtown Development Authority and formed the nonprofit Lilburn Community Partnership.
"Diana's dedication and love for her community was unmatched," City Manager Bill Johnsa said in a statement. "She touched many lives and will be greatly missed."
Although she only served as mayor for four years, she told the Daily Post after her defeat in 2011 that she stood by the way she led Lilburn.
"I really don't have any regrets," she said at the time. "I did it the way I felt I needed to."
Preston was also a member of the inaugural Leadership Gwinnett class alongside well-known county figures, such as county Commission Chairwoman Charlotte Nash and former Gwinnett Clean and Beautiful Board of Directors executive director Connie Wiggins.
"Diana Preston was a very special lady who had a big heart for Gwinnett and especially for the city of Lilburn," Nash told the Daily Post. "I knew Diana for decades, since we were both members of the charter class of Leadership Gwinnett in 1985-1986, and I considered her a friend.
"Diana was an educator by profession and by passion, but she found her real calling through community service."
On Facebook, Wiggins said a Clemson Santa Claus and a Tiger Den that she'd recently put out on display now have deeper meanings to her because of Preston's death. Wiggins received them from the former mayor as a gift, and said Preston had made a difference in the lives of many people in Gwinnett County, including her own.
"I will forever remember our inauguration into the Charter Class of Leadership Gwinnett, fun times at Sapelo Island, Gwinnett Clean & Beautiful Advances, talking politics and so much more," Wiggins said.
State Rep. Pedro Marin, D-Duluth, called Preston "one of the great leaders of Gwinnett County" in a tribute that he posted on Facebook along with a photo of the former mayor.
"We (knew) each other for over 20 years and loved our many conversations, (especially) when we talked about politics," Marin said. "R.I.P. Diana."