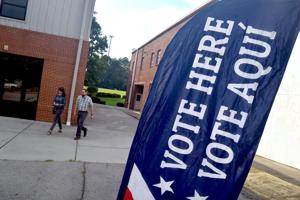 Machines that issue voting cards have gone down at four polling locations in Gwinnett County this morning, a county spokesman has confirmed.
Joe Sorenson said poll workers were having trouble with Express Poll machines at precincts located at Anderson-Livsey Elementary School near Snellville, Harbins Elementary School in Dacula, the Suwanee library branch and Mount Vernon Baptist Church in Lawrenceville.
Poll workers use the machines to generate ballots on the cards that voters insert into voting machines to cast their votes. It was not immediately clear whether it was an issue with the machines or with the cards.
"Basically what it boils down to is the cards aren't being issued for the electronic voting because of the issues (at the affected polling locations) right now," Sorenson said.
Sorenson said precincts were stocked with paper ballots and voters have been given the option to cast their ballots that way, wait until the machines are up and running or come back later in the day.
The issue was resolved at Anderson-Livsey at about 9:15 a.m., Sorenson said. It was not immediately known when the machines would be up and running at the other three polling locations.
"We don't expect this to last throughout the day," Sorenson said.