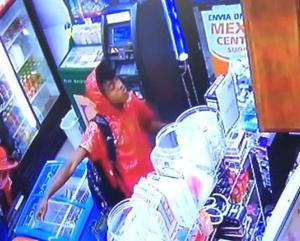 Gwinnett police want the public's help identifying a man who broke into a Lilburn convenience store and stole nearly $20,000.
On August 24, at around 4:45 a.m., the suspect broke the front glass doors of the Santa Fe Food Mart, which is located on Indian Trail Road in unincorporated Lilburn, with a hammer, according to Cpl. Michele Pihera, spokeswoman for the Gwinnett County Police Department.
While there, the man stole cash from behind the counter and from inside the store's gambling machines, as well as several packs of cigarettes, Pihera said.
The total value of theft is about $19,000 and he was last seen walking away from the business towards Burns Road.
After the burglary, the store manager told police that the previous day — Aug. 23 — a suspicious man came into the store, Pihera said.
"The young male pulled up his hoodie and tried to hide his face before walking inside," Pihera said. "He had an interest in the gambling machines and was continuously looking around as he was playing. The male was wearing a shiny red, hooded shirt and was carrying a backpack."
Anyone with information about the suspect or the crime is asked to call Gwinnett detectives at 770-513-5300. To remain anonymous, tipsters can contact Crime Stoppers at 404-577-TIPS (8477) or visit crimestoppersatlanta.org.
Tipsters can receive up to $2,000 for information leading to an arrest and indictment in this case by referencing case number 18-078912.