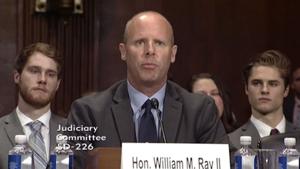 More than a year after he was nominated and underwent confirmation hearings in the U.S. Senate, Grayson resident William "Billy" Ray II is now a U.S. District Court judge.
The Senate voted just before 6 p.m. Thursday to confirm President Donald Trump's nomination of Ray, a former Gwinnett County Superior Court judge and Georgia Court of Appeals justice, to a seat on the U.S. District Court for the Northern District of Georgia. The confirmation measure passed on a nearly partisan line 54-41 vote.
In addition to serving as a judge at the county and state levels, Ray also previously served in the Georgia General Assembly and was a partner at the law firm of Andersen, Davidson and Tate, P.C.
U.S. Sens. Johnny Isakson and David Perdue, both R-Ga., praised Ray's confirmation in a joint statement Thursday.
"Judge Billy Ray has an outstanding record of service to Georgia in our state Legislature and on the bench and a history of getting things done," Isakson said. "Judge Ray created Heidi's Law in Georgia to tighten penalties in repeat DUI cases, and he created the drug court in Gwinnett County.
"I'm pleased the Senate confirmed Judge Ray and look forward to his continued service."
Perdue said, "I'm confident Judge Ray will continue to serve with integrity in this new role, just as he did during his combined 16 years on the Court of Appeals of Georgia and Superior Court in Gwinnett County. President Trump has selected an exceptional Georgian to fill this seat on the federal bench, and I congratulate Judge Ray on his confirmation."
Ray will not be the only person from Gwinnett dealing with criminal justice at the federal level in Georgia. Lilburn resident and former state representative BJay Pak was appointed last year to serve as the U.S. attorney for the Northern District of Georgia.