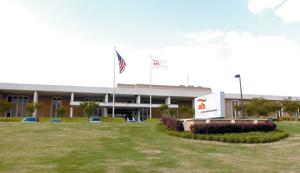 Gwinnett County commissioners will hold a called meeting next week — in their role as the county's Urban Redevelopment Agency board — to vote on $36.5 million in bonds for the purchase of the OFS site in Norcross.
Gwinnett County is buying about 103 acres from OFS at the intersection of Jimmy Carter Boulevard and Crescent Drive in unincorporated Norcross. The URA board meeting will take place at 1:45 p.m. Tuesday at the Gwinnett Justice and Administration Center, which is located at 75 Langley Drive in Lawrenceville.
"(The bonds are intended) to finance the costs of acquiring an urban redevelopment project consisting of the acquisition of approximately 103 acres of land, together with the improvements and personal property thereon," county officials said in an announcement for the meeting.
The process used to complete the purchase might sound a bit complicated since the Board of Commissioners is also the URA board, but back in May, the commissioners, acting in one role, gave them themselves permission to purchase the site for redevelopment while acting in a different role.
The county's plan for the site is to partner with a developer to redevelop the property, but officials have said they don't have concrete plans for what could go there. It's a key site for county officials, however, prompting them to call it "the gateway of Gwinnett County" earlier this year.
"We're not going to want just any old development on it, you know a gas station, a strip mall, that's not what we're talking about," Commission Chairwoman Charlotte Nash said in May. "I visualize tall buildings to help deal with the site, I mean leave as much of that site flexible for other kinds of uses (as possible), but I'm just talking Charlotte's ideas now.
"As a board, we haven't really coalesced (around a redevelopment plan yet)."
The OFS site has been eyed for various projects over the years, including a movie campus and a casino, but those plans didn't pan out. County officials have not rule out the possibility of putting a multi-modal transit hub on the site since the Connect Gwinnett Transit Development Plan calls for such a hub to be built on the Jimmy Carter corridor.
Implementation of the transit plan doesn't require passage of the county's upcoming MARTA referendum in March 2019, but the hub is intended to include a heavy rail line that would connect to MARTA's Doraville station. MARTA has also agreed to implement Gwinnett's transit plan if the referendum passes.