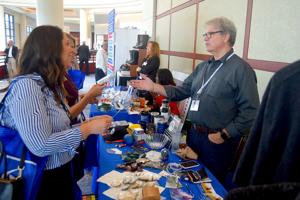 When the Georgia Manufacturing Summit was first held four years ago, the event drew crowds by the hundreds, but Georgia Manufacturing Alliance CEO Jason Moss said the turnout wasn't like it is now.
About 250 people attended the first-ever summit, which is staged by the Lawrenceville-based statewide alliance. Two years later, the attendance was up more than 600 people.
Moss said the fourth annual summit, which was held Wednesday at the Cobb Galleria, drew a crowd of more than 850 people. That growth is one of the reasons why the alliance's leader beamed as he relaxed in a chair outside the galleria's meeting rooms and reflected on his thoughts about this year's event.
"It's been fantastic," Moss said. "We have exceeded all expectations … It's pretty cool. We've got some traction. We're expecting we'll do well over 1,000 next year."
This year's summit had something of an aviation focus with two main speakers, Gulfstream President Mark Burns and Thrush Aircraft Vice-President Eric Rojek featured at the event. The theme, however, was "Manufacturing Success in Georgia," which flowed back to the topic of growth.
For the last five years, the manufacturing sector in Georgia has grown by 14 percent, according to Moss. At the same time, the Georgia Manufacturing Alliance has been growing too. Moss said it currently has seven chapters around the state, but is looking at adding additional ones in Rome, Columbus and Albany.
"That (theme) can be played depending on how you emphasize the words," he said. "Manufacturing success can talk about the success that we've had, but also manufacturing more success. That's sort of the spin on the conversation. What have we done that's been successful and those (participating) business and industry leaders are sharing what has worked so that others can follow that path of success."
Burns said the manufacturing industry has undergone rapid change in the last 15 years because of new technology, an item he later highlighted in his lunchtime keynote address. He has worked for Savannah-based Gulfstream — an airplane manufacturer that is currently pushing 18,000 employees — for 35 years.
Little changed in the manufacturing process during the first 20 years, Burns said, but it began to accelerate over the last decade and a half as new manufacturing technology such as 3D printing was introduced.
"It's the thing that has evolved the most in my 35 years — how airplanes are built," he said. "Today, the precision with which 3D design, 3D manufacturing design is used today has really changed how we build airplanes. When I started, we built basically by hand using drawings and today everything is 3D modeled, everything is high precision robotic."
Attendees got to hear from Burns and Rojek, but they also got to peruse an expo highlighting companies that manufacture products in Georgia as well as businesses that work with manufacturers and attend educational breakout sessions.
The breakout session topics included disruptive technologies, manufacturing a better bottom line, trends to track in supply chain, workforce development, international manufacturing and sales and marketing secrets.
"It's funny, in all of the surveys we do, the No. 1 thing our manufacturers tell us they're interested in is sales and marketing," Moss said. "They want to sell more stuff."
Attendees said they appreciated the breakout sessions as well as the information they got from the keynote speeches.
"So far, it's been really valuable," said Katherine Peoples and she and fellow ABM Building Solutions employee Fawn Allen checked out booths in the expo at lunch. "We just heard the bottom line session which was very educational. As a vendor, I learned a lot about what (manufacturers) are looking for."
Mike Fisher, who works out of SCS Engineer's Duluth office, said he liked the education and networking aspects of the summit.
"I think it's great," he said. "The keynote speakers are awesome, very informative and its very interesting about the diversity of the aerospace industry and the role it plays in manufacturing."
Vendors who had booths at the expo also praised the event.
Duluth-based E2E Benefits Services Inc. President Raymer Sale said he's been a member of the Georgia Manufacturing Alliance for years, but this was the first year where he had a booth at the event. Sale is also a member of the alliance's Board of Directors and E2E was one of the sponsors for the summit.
Sale said he sees the benefit of being in expos such as the one at the summit but that it takes time to show up.
"It's one of those things were you don't know what you're getting out of it immediately because people you talk with show up months later," he said. "I've not been disappointed with the traffic. I think the traffic has been good."
Halo Branded Solutions Independent AE George Fergus was also a first time participant at this year's expo. His company helps with branding for manufacturers, including getting packaging for their products made.
"I like this show," he said. "I like working with manufacturers. I understand their business model. They are people I can build a business relationship with."