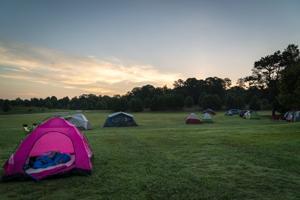 Gwinnett County Parks and Recreation officials are inviting families to do a little camping at the Gwinnett Environmental and Heritage Center this weekend.
The center is hosting its inaugural Backyard Community Campout on Saturday and Sunday on its Festival Field. County officials are touting the campout as chance to explore the Environmental and Heritage Center grounds while spending time together as a family.
"This overnight campout at the Festival Field is a fun, family-friendly event designed to educate and entertain with activities such as stargazing, exploring the trails after sundown, discovering the animals that call the GEHC home, campsite tales, campfire safety demonstrations by the Gwinnett county Fire Department and a special hayride," officials said in an announcement.
Each family that participates in the event gets a 15-by-15-foot campsite with an already-assembled two- or four-person tent. Each campsite has room for up to four people. Families have to provide their own gear, such as sleeping bags.
The cost to participate is $15 per site for Gwinnett families and $30 per site for non-county residents. Families can bring their own food and snacks, but dinner and breakfast will be sold onsite as well.
Officials will begin checking in families at 4:30 p.m. Saturday, and activities for the attendees will begin at 6 p.m.
Attendees must register in advance at www.gwinnettEHC.com. Residents who have questions about the event can call 678-765-4664 or email [email protected].
The Environmental and Heritage Center is located at 2020 Clean Water Drive in Buford.