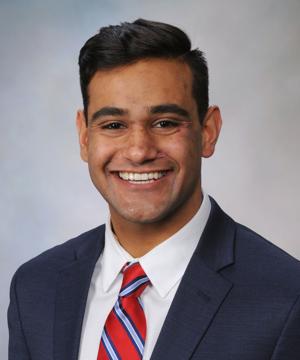 Duluth resident and Georgia Tech student Dev Mandavia was named a finalist for the Collegiate Inventors Competition. Mandavia is part of Georgia Tech's team that includes three other students — Alexander Bills, Lucas Muller and Cassidy Wang.
Established in 1990, the Collegiate Inventors Competition is an annual competition that rewards innovations, discoveries and research by college and university students and their faculty advisors. Finalists are broken into two categories, undergraduate and graduate, and their inventions provide a glimpse into the future of American innovation and emerging technological trends—from a harp-inspired water harvester to a steerable micro-catheter.
The Georgia Tech team invention is Neuraline, which helps with epidural accuracy.
According to the project description, three million women receive an epidural during labor each year with one-in-eight cases resulting in complications due to incorrect injection placement. Neuraline measures the electrical properties and composition of the body and notifies practitioners of the proper spot to administer the epidural.
Finalists will travel to Alexandria,Va., in November to present their inventions to a panel of final-round judges composed of National Inventors Hall of Fame Inductees and United States Patent and Trademark Office officials.
"The USPTO is proud to be the host and presenting sponsor for the 2018 Collegiate Inventors Competition —a program where the brightest college minds in our country will present the future of American innovation," said Andrei Iancu, Under Secretary of Commerce for Intellectual Property and Director of the USPTO."It is inspiring to participate in an event that showcases the strength of our nation's Innovation Ecosystem."
Finalists are scheduled to showcase their inventions on Nov. 16 at the Collegiate Inventors Competition Expo with an awards ceremony naming the winner to follow afterwards.
Other undergraduate teams to qualify include Brown University, University of Louisville, Johns Hopkins University and MIT.