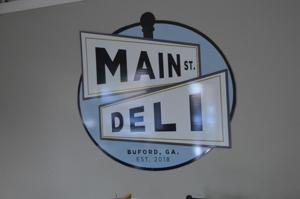 Main St. Deli
60 E. Main St.
Buford
678-288-9991
Owner: Chris Ouimet
Open since: May 23
Hours: 9 a.m. to 4 p.m. Mondays through Fridays, 8 a.m. to 4 p.m. Saturdays, closed Sundays
Location: Located on Main Street in Buford's historic dowtown
Atmosphere: Main St. Deli is a fast-casual dining experience nestled along Buford's historic downtown area. Owner Chris Ouimet has spent a majority of his life involved in the restaurant business.
"My earliest memories come from cooking with my grandmother and mother," Ouimet said. "When I was in kindergarten, I came home from making bread in class and my mom said that I came home so excited saying I would be the bread man growing up."
His passion for food led him to attend Johnson and Wales culinary school in Providence, R.I., to get a degree specializing in baking and pastries.
Prior to settling in Buford, he worked with the Ritz-Carlton in Florida and California, worked with Disney in Floriday and with Whole Foods in Georgia.
Ouimet, his wife and 1-year-old daughter, Olivia, moved to Buford in 2006 to be closer to family. The move to the area and the subsequent support of the community is one of the reasons he opened Main St. Deli.
In April 2013 his daugter was diagnosed with viral hepatitis causing her to stop producing blood.
"We tried to get jump started with medication and a bone marrow transplant but it didn't work," Ouimet said. "She passed away on Nov. 21, 2014. This community especially the church and the school lifted us up when we really needed it. That was the catalyst behind opening this up."
The inside features a glass counter where guests can see the daily quiche, meats, cheese before making a selection and provides an intimate atmosphere where Ouimet likes talking to and getting to know his customers.
"We have one rule here," Ouimet said. "Good food, good people and good times. Life's too short for anything less."
Menu: Main St. Deli offers a traditional deli spread dominated by freshly baked bread, an assortment of meats tand homemade sides.
"Fresh and minimally processed food is what we serve," Ouimet said. "At the same time, we're trying to be accommodating and if you don't see what you want, ask us and we'll make it."
Options and ensuring that customers aren't excluded due to dietary restriction is something Ouimet has taken to heart.
The menu boasts gluten free options as well as both vegetarian and meat, quiche and soup options.
"Everyday we're going to make two different types of quiche du jour and soup du jour," Ouimet said. "It makes sure we have something for everyone in a family."
The menu includes breakfast sandwiches such as the Bird's Nest, made with bacon, lettuce, tomato and mayonnaise served on a Challah roll and topped with a nested runny egg, and the Ranchero — fried egg, avocado, bacon, pico de gallo and hot sauce on a Challah roll — that are served all day as well as a build your own sandwich and a selection of deli specialties.
The store also serves as a deli where people can buy deli meats including turkey, roast beef, ham, pastrami, an assortment of cheeses and sides such as coleslaw, potato, egg, tuna and chicken salads by the pound.
The deli also serves $10 home cooked entree to-go meals — inlcuding chicken and dumplings and meatloaf — that change seasonally.
"We added that because it reminds me of what my mother used to make," Ouimet said. "I try to include things that are nostalgic for me growing up to give guests a similar experience."
Something you might not know: Menu items Leigh's 5 Star Coleslaw, Aunt Linda's Potato Salad and B's Favorite are all menu items and recipes taken from and named after family members.
"This is a family business and I'm not here to take credit for everything," Ouimet said. "Everyone from my family members to the people like Jeremy Harris and Sharon Bolden working here have made this what it is."