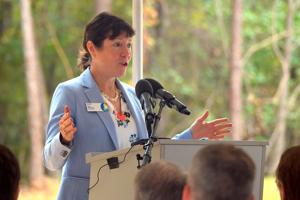 Gwinnett County officials are expecting big things from the $60 million Water Innovation Center that will be built next to the Gwinnett Environmental and Heritage Center and the F. Wayne Water Resource Center in Buford.
The 60,000-square foot center is designed to be a hub of education, research, professional development and business built on 700 acres. It's an idea that has been in the works for years, and county officials say they aren't aware of any other facility like it.
"When you look around the world, there are facilities that do components of this, but not what we're looking at for really combining all four pieces," Water Innovation Center Development Director Melissa Meeker said.
"When you add in the applied research, technology, innovation and demonstration hub with the workforce development in partnership with (Georgia Association of Water Professionals) as well as the partnership with the Environmental and Heritage Center as well as the F. Wayne Hill plant … when you integrate all of those pieces, it is unique around the world."
County officials broke ground on the Water Innovation Center amid the trees that line Woodward Mill Road at Interstate 985 on Tuesday afternoon. The facility is expected to take three years to complete, with an opening expected to happen in October 2021.
Among the features of the facility are wet and dry laboratory spaces, conference rooms, a three-story demonstration bay, an auditorium with seating for 250 people and classrooms.
It will have space for research institution and water-related organizations to study water-related issues. There will also be a business incubator for startup companies that work within the water industry.
"This is one of those things that while it's fun and certainly exciting to be a part of, we also know it's going to serve a very important purpose, not just for Gwinnett County, but for a broader area too," Gwinnett County commission Chairwoman Charlotte Nash said.
Meeker and Gwinnett County Department of Water Resources Assistant Director Tyler Richards said the center will also compliment the educational programming offerings at the Environmental and Heritage Center.
Whereas that facility's programs are primarily targeted toward younger school students, the Water Innovation Center's educational programming would be geared toward older pupils, such as high school and college students.
"We've been working very closely with (Gwinnett County Community Services Director) Tina Fleming right from the beginning about how we would program these to be complimentary rather than competitive," Richards said. "So it's an idea that we can achieve the education of that older group.
"It'll be a lot more technical than we typically do for kids, but (the innovation center will) also have some things where they can come over and see some cool research projects because our goal is to want people to work in the water profession."