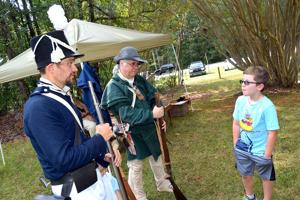 The Elisha Winn Fair is an annual celebration of Gwinnett County history staged on the grounds of the Dacula area home where the county was set up after its founding in 1818, but there is a deeper meaning to the event for Mary Ballard.
Ballard is a descendant of Elisha Winn, his great-great-great granddaughter, to be exact, so she has a personal connection to some of the artifacts in her ancestor's namesake home. These artifacts — which Ballard got to explain to visitors at the fair — represent generations of Winns who lived in the home.
And the fair turns out to be a little bit of a family reunion for Ballard as well.
"Oh yeah, it is (special)," she said. "There's been a lot of relatives that came through here and stopped and talked and introduced themselves. I can't remember half the names, but I got a few cards."
The Gwinnett Historical Society's two-day 40th annual Elisha Winn Fair kicked off Saturday with bluegrass performances, food and craft vendors, presentations by Fort Daniel re-enactors and historical displays.
There were also tours of the Elisha Winn House and the one-room school house, with visitors getting a chance to see a weaver working on a table runner as well as blacksmiths at work.
Gwinnett Historical Society Co-President Betty Warbington estimated about 500 people had attended the festival by 3 p.m. Saturday, with two hours left to go on the opening day of the fair.
"It's wonderful," she said. "There's been beautiful weather and so many people here."
Attendees said they enjoyed getting to experience the historical aspect of the fair while learning about Gwinnett County's early days.
"I think it's great to look back at our heritage and where we came from, especially for our children to see how things have progressed," Dacula resident Ann Galbraith said.
Winder brothers Jackson and Hunter Kaul enjoyed getting to see rifle demonstrations from representatives of the Fort Daniel Foundation when they first arrived.
"It was pretty cool," Jackson Kaul, 8, said.
"It shoots and fires (like a gun from the 1800s), and that's really old," Hunter Kaul, 6, said.
The festival continues from 10 a.m. to 5 p.m. today at the Elisha Winn House, which is located at 908 Dacula Road in Dacula. Admission is $3 for adults and children under 12 will be admitted for free.