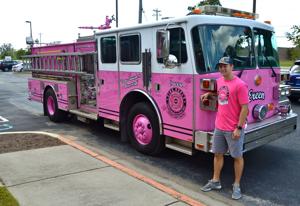 Firefighters in pink uniforms — some current first responders, others retired — lined up at the end of Victoria Amos' driveway, removing their helmets as they approached the woman.
"We came to give you a big hug and tell you we're here for you," said Michael Sayles, a Gwinnett County fireman and founder of Pink Heals Gwinnett County. "Everybody here, they're from the national tour; they came from all over the United States to give you a hug."
Crying, Amos, a single mother of two who has fought recurring ovarian cancer for the last several years, stood in shock, staring at the pink firetrucks that lined the street of her Suwanee subdivision.
The sight wasn't typical for many reasons — for starters, it's rare to see pink firetrucks and their operators in pink uniforms — yet it was a sight repeated across Gwinnett last weekend, and a sight that will continue across the nation, and the county, through the end of the year.
On Saturday and Sunday, Pink Heals Gwinnett County, the organization responsible for Amos' visit, held its first home calls, which fell in conjunction with the national organization's Gwinnett visit.
A nonprofit, Pink Heals was started in Phoenix in 2007 by retired firefighter Dave Graybill, who wanted to bring together public safety officers to aid people in the community who are fighting illnesses.
Though the organization's signature vehicles — firetrucks, though the national organization and some chapters have been able to expand their fleet to include police cars, too — are pink, the visits aren't just aimed at women, and the organization focuses on a number of illnesses aside from breast cancer, the disease that is most often represented by the color pink.
In fact, Sayles, who made the decision less than a year and a half ago to found a Pink Heals Gwinnett chapter, received a visit of his own in December 2014 from the Pink Heals Joilet Area Chapter, which is located about 30 miles southwest of Chicago.
"I was 18 and going to college in Georgia," Sayles said. "I'm actually originally from the Chicago area and I flew home for Thanksgiving to go see my family and I woke up the next morning with a lump on my neck. I went to the hospital and got diagnosed (with lymphoma) and just as I was starting chemo, the Pink Heals Joilet Chapter came out to visit me."
The visit left a lasting impression on Sayles.
"It was amazing — they brought all my friends and all my family and also the local fire department, which passed my house with all the lights and sirens," Sayles said. "It brought me to tears right away and it really changed my whole outlook on my fight. It just really showed me that I can go to people (for help) and it showed me exactly who I could go to and that I did have support."
After six months of chemotherapy, during which he volunteered with the Joilet chapter, Sayles said his outlook again changed.
"I was like, 'You know what? I'm going to do something better with my life,'" he said. "I didn't want to just do a desk job and I was a PR major, so I decided, 'I want to be a firefighter.' Mother's Day 2015 was my last chemo treatment and I moved back down here and got on with Gwinnett. In January of 2016 I started with Gwinnett fire and as soon as I was done with my training (in May 2017), I was like, 'I really want to start (Pink Heals) around here.'"
For about a year, Sayles sold T-shirts to raise enough money to purchase a firetruck, which happens to be a retired Gwinnett truck.
"The (county) put it up for auction a couple of years back and one of our firefighters' dad used to ride that engine," Sayles said. "He was like, 'I really want to buy my dad's old engine,' and he did and fixed some things up on it, but then was like, 'OK, now I have a firetruck…what am I going to do with it?' He said he was looking to sell it and someone put me in contact with him and I've had the firetruck now for about four or five months."
Finding and purchasing a firetruck was only the first hurdle Sayles had to jump through, though.
"Then it was, 'Now I've got a firetruck, but I've got to get it painted pink,'" he said. "That in and of itself (was difficult), because getting a firetruck painted is not easy, and then getting a firetruck painted pink is way harder. Luckily, I had a friend from back home who knew a woman in Kennesaw who works for PPG Paint who actually had breast cancer. She was like, 'I can get you pink paint' and they donated 100 percent of the paint and that was huge."
Sayles faced another challenge — he had all this pink paint, but didn't know who would actually paint the truck.
"Now I'm like, 'I got this and I got this, but I can't do that,'" he said. "It was about to come down to getting a bunch of guys to come to my house and taping it up and painting it, but then somehow my mom found somebody down in Morrow, Ga., and they were like, 'A firetruck? We'll paint it.' But then I got there and we went to go put it in the paint booth and they were like, 'Yeah, it's not going to fit,' so they took all the cars out of their huge shop and taped off the truck and painted it inside the whole shop."
Within 24 hours, the truck was completely painted, Sayles said, and then the decals were added, a donation from Sayles' girlfriend's parents, who own a T-shirt company and work with decals.
By mid-September, the truck was completely ready to hit the road, just in time for the Pink Heals national tour's visit to Gwinnett.
So far, Pink Heals Gwinnett County has only done seven home visits, though Sayles said he hopes to soon increase that number, given there's a need in the county.
"We're looking at our schedule to see when we can do our next visit," he said. "Because this is 100 percent nonprofit, we have to figure out when volunteers can get together but we're hoping to do a couple days in late October. Gwinnett is such a big area and I know there are already tons of people affected (by illnesses) that we can help."
Sayles said Amos, who the chapter visited on Sunday, was a perfect example of someone who needed the help and encouragement the visits are intended to provide.
"She's in her late 20s or maybe young 30s and has two kids and she's single, so when we came out, it just changed her whole outlook on everything," he said. "She was so thankful and she was crying and I was crying and it was just amazing what we did for her. The day before, I guess she was like, 'I start another round of chemo (soon), I don't know if I'm going to make it,' and then the day after our visit, she said, 'Starting another round of chemo with a new fighting spirit; ready to take it on.' Just to be able to rejuvenize somebody is amazing."
To view the video of Amos' visit or for more information about Pink Heals Gwinnett County, visit facebook.com/Pink-Heals-Gwinnett-County-1518515121575559. The national organization's website is pinkfiretrucks.org.