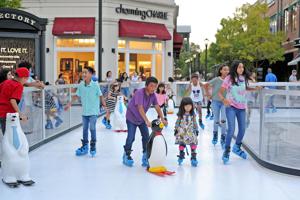 Skating around the "ice" at The Rink at the Mall of Georgia on Friday night was a new experience for Buford residents Isabella Walker and Layla Breaux.
They had roller-skated before, but that was indoors. Outdoors skating was a new experience, and it was warm, short-sleeve kind of weather. Walker said she adjusted by treating it like roller-skating.
"It was fun, very different, but I did like it," she said.
Breaux said, "Since it's hot and you're ice-skating, that's different."
Friday night marked the opening of The Rink for the first time at the mall. It's a new feature being introduced in The Village area at the mall this fall, and it will be open the public daily through early January.
The mall kicked it off with a 1990s-themed "Ice, Ice Baby" event that featured games and activities such as oversized Jenga, a slap bracelet-making booth, hula hoop contests and dance contests set to high-energy dance tunes from the 1990s.
"We want to just continue to create memories for our guests so we thought this could help continue to enhance their visit here with family-friendly amenities and activities," said Teresa Holloway, the Mall of Georgia director of marketing and business development. "It's all about making great memories."
The Rink does not offer ice-skating in the traditional sense of whizzing around cold ice on skates with sharp, metal blades. The attraction uses a plastic-like surface that is intended to let visitors simulate the experience of skating on ice without having to deal with the issue of trying to keep the rink from melting.
"It's faux ice, which is great because we can offer it longer in the season than a traditional, a real ice-skating rink," Holloway said.
Lawrenceville resident Gemetris Maddox said she was surprised when she arrived with her son, Gavin, 6, for the ice-skating and found it was a synthetic surface. She brought her son as a reward for receiving a good conduct report for the week at school.
"It's cool (that skating is offered), but I thought was real ice, though," Maddox said. "That's the only thing. I didn't know it was going to be like plastic. That was the only disappointing thing, but it's still pretty cool."
The overall experience was a positive one for Buford siblings Braden Day, 7, and Ansley Day, 5.
"It's cool, but I keep falling down," Braden said.
"I like that I'm going fast," Ansley said.
The children skated for a while, stepping off occasionally to talk to their mother, Sara, but then getting back on the "ice" for another go around the rink, eventually working up a sweat.
"They're burning lots of energy, definitely worth $3," Sara Day said. "I didn't think they'd be out here for this long, but here they are."
The regular cost to enjoy The Rink is $5 for adults and $3 for kids 12 and under, but there will be specials such as $2 Tuesdays. The attraction will be open 11 a.m. to 9 p.m. Mondays through Thursdays, 10 a.m. to 10 p.m. Fridays and Saturdays, and noon to 8 p.m. Sundays.
Holloway suggested visitors also check the Mall of Georgia's website at www.mallofgeorgia.com to see if there are changes in the times for The Rink throughout the fall and winter.