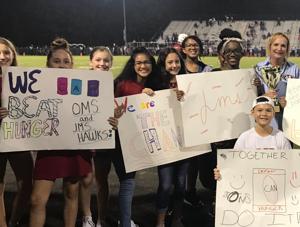 Mill Creek's Main Event, a competition to collect food items for those in need, amassed a total of 31,007 pounds of food, school officials announced during a ceremony at halftime of the school's football game Sept. 28.
Main Event is a new cluster-wide initiative developed by Mill Creek High School that includes five elementary schools and two middle schools collecting food to donate to The Pantry at Hamilton Mill United Methodist Church.
For the past two years, Mill Creek participated in Friday Night Food Fight with Dacula High School. This year, plans changed as Dacula partnered up with Mountain View High School for the Friday Night Food Fight.
"The vision for Mill Creek this year is recognizing needs in the world outside of ourselves and kids of different ages coming together for a cause," said Susan Lang, Director of The Pantry at HMUMC. "This round will include a battle between the cluster elementary schools, a battle between the middle schools, and a battle between each grade level at Mill Creek High School."
Megan Ivester, organizer for Mill Creek, previously said the cluster would begin collecting in mid-September.
Ivy Creek Elementary collected more than 7,400 pounds to be named winner of the elementary school battle, while Jones Middle collected 3,344 pounds to beat Osborne Middle for the middle school title. Mill Creek High led all cluster schools with 13,686 pounds of food collected.
According to Lang, the Mill Creek cluster has collected more than 125,000 pounds of food in the past three years.
Duncan Creek Elementary student wins pageant
Duncan Creek Elementary school first-grader Britney Walker was recently crowned Grand Supreme at the Georgia Elementary Pageant held Sept. 15 to 27.
"She begged me to do these pageants," her mother, Ashley Walker, said. "Her favorite thing is talent portion where she can sing and hula hoop."
One person who inspired Britney Walker is current Miss Georgia High School America representative Shayla Jackson, who is hearing impaired.
"They both held up the sign language symbol 'I love you,'" Ashley Walker said. "It was a surprise that she did it, but she really enjoys Shayla's anti-bullying platform."
According to Ashley Walker, her daughter will be joining Jackson in Little Rock, Ark. June 24 to 29 for the Miss High School America Pageant.
Winn Holt student places in postcard contest
Zoe Castillo, a fifth-grader at Winn Holt Elementary School, was recently named a Plains Peanut Festival Postcard Contest winner. Castillo, who earned third place, was invited to take part in the Plains Peanut Festival in Plains, which was held Sept. 22.
She competed against nearly 1,800 Georgia students in grades K-12.
Contestants were required to create a postcard with artwork and a message related to the theme, Presidents Eat Peanuts! What's Your Peanut Super Power?
McDonald's offers grants for students
McDonald's is offering more than $40,000 in grants to students in 30 counties around the metro Atlanta area, including Gwinnett County Public Schools.
The worldwide fast food chain is offering 12 grants as part of its inaugural Golden Grant program.
Grants will be awarded based on creativity, innovation, need and hands-on application of project.
McDonald's is giving out one $20,000 grant, one $10,000 grant and 10 $1,000 grants.
Activities that qualify for a Golden Grant include arts and crafts programs, education initiatives, mentorship and empowerment programs, after-school programs, community service outreach and sporting programs and activities. According to McDonald's officials, activities and programs have to be executed by Dec. 31, 2019.
The deadline to apply for the grant is Nov. 2 and winners will be announced Dec. 18. For more information about Golden Grants, visit GoldenGrantsATL.com.
Good News from Schools appears in the Gwinnett Daily Post's Sunday Edition, highlighting achievements and success.
Trevor McNaboe is the Gwinnett Daily Post's education reporter. He can be reached at [email protected].