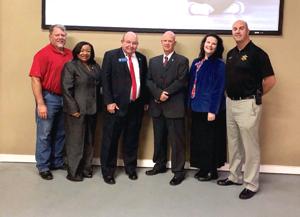 Suicide is the second leading cause of death for high school-age children, according to the Georgia Bureau of Investigation, and officials from the agency recently went to Barrow County to raise awareness of the issue.
The GBI's Child Fatality Review Unit partnered with Barrow County's school system to hold a Youth Prevention and Awareness Summit at River Hills Church in Winder on Sept. 25. GBI officials said there have been 27 youth suicides reported in Georgia this year.
As a result, the summit focused on recognizing warning signs and taking steps to prevent a suicide from happening.
"These deaths can be prevented," GBI Director Vernon M. Keenan said in a statement. "Intervention with a troubled child can save a life."
Participants in the summit included GBI Child Fatality Review Unit Special Agent in Charge Trebor Randle and Prevention Specialist Shevon Jones, state Reps. Mandi Ballinger and Terry England, Barrow County School Resource Officer Heather Stafford, Barrow County Coroner David Crosby, Department of Family and Children Services Field Program Specialist Rick Chamberlain, R U Ok App representatives Charlie and Hannah Lucas and Advanced Practice Consult Liaison Psychiatry Clinical Program Manager Erin Harlow-Parker.
One of the services that was highlighted during the summit was a phone line that students can text or call at 678-786-2144.
"Barrow County Schools are committed to keeping our children safe," Barrow County Schools System Superintendent Chris McMichael said. "We have provided our children with a tip line to help."
Another resource available that GBI officials said is available to children and parents is the 24-hour Georgia Crisis and Access Line. It can be reached at 1-800-715-4225.
The GBI has also posted links to several youth suicide prevention public service service announcements on the Child Fatality Review Unit's webpage, gbi.georgia.gov/CFR.