Above, Anna Seville sings "You Lift Me Up" at the edge of the Lake McIntosh pier Saturday afternoon during festivities for the annual Rotary Club Dragon Boat Races. Just behind her are two dragon boats. Rowers tossed what appeared to be pink roses out upon the water in tribute as Anna finished her song. Photo/Markus Schwab Photography.
Below, the annual Dragon Boat Festival at Lake McIntosh in Peachtree City was held Sept. 22, and among the competition was the Mayor's Cup Race featuring Peachtree City and Fayetteville emergency services staff, with Fayetteville Mayor Ed Johnson and Peachtree City Mayor Vanessa Fleisch beating the drums to keep the rhythm. This year the winner was Fayetteville. The festival is sponsored by the Rotary Club of Peachtree City. Photo/Ben Nelms.
Below, Sept. 22 at Lake McIntosh was the Charity Hand Paddle race. Participants included those wanting to help a good cause by paying $20 to paddle by hand. Photo/Ben Nelms.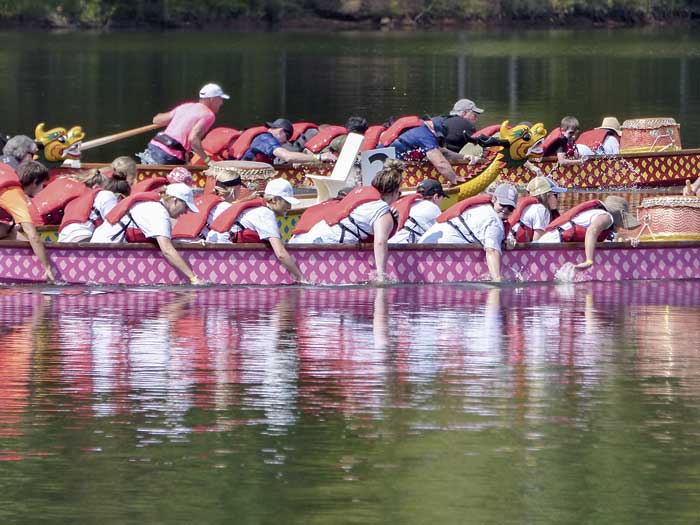 Below, a team digs in to skim their dragon boat across Lake McIntosh. Photo/Markus Schwab Photography.