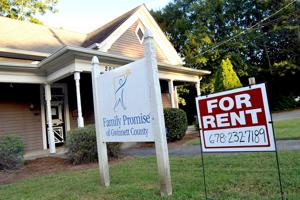 A drop of more than $200,000 in donations in one year has forced Family Promise of Gwinnett to temporarily suspend operations at a homeless shelter it operates in Lawrenceville.
Family Promise's Board of Trustees announced the SaltLight Resource Center's temporary closure this week in a letter to community supporters to make them aware of the organization's financial situation.
Board of Trustees Secretary Sarah Zimmerman told the Daily Post that donations dropped from $466,234 in 2016 to $261,803 in 2017.
"We've just had a significant budget shortfall and we had to do something to cut our expenses back and so we have — we believe it's just temporarily — suspended operations of the SaltLight Center," Zimmerman said.
The shortfall in funding is having an effect across several areas of Family Promise's operations. In addition to suspending operations at the shelter, the nonprofit is scaling back its Aftercare program and moving its offices from downtown Lawrenceville to a local church.
The closure of the SaltLight Center, even if it is temporary, is a blow to efforts to help Gwinnett's homeless population because it was the only shelter with beds available in the county. It had space for 11 people to stay at night.
In late August, Family Promise of Gwinnett announced on social media that the shelter had served 161 women, including 61 mothers and 18 veterans, as well as 110 children between January and July.
"When we reopen the SaltLight Center would depend on how many donations we receive," Zimmerman said.
Family Promise's board would like to build up a financial cushion of donations before it reopens the SaltLight Center. That means raising at least about $137,000 to $150,000 before the center can reopen, according to Zimmerman.
"We want to have some reserves so, in case we have another dry spell, we'll still be able to keep our operations going," Zimmerman said.
The overall drop in funding that came in last year was spread across all the six income areas that Family Promise relies on.
Money generated by fundraising activities dropped from $136,272 in 2016 to $91,788 last year. Other drops were seen in grant funding ($92,900 in to 2016 to $28,586 in 2017); individual giving (down from $56,410 to $33,871); corporate donations ($45,762 to $35,529); contributions from local congregations ($76,099 to $49,812) and other contributions ($58,791 to $22,217).
Family Promise's efforts to address the shortfall in donations comes at a time when the organization is without an executive director. The previous head of the organization, Matt Elder, left in early July to take a new position at the United Way of Gwinnett dealing with Gwinnett's homeless population.
The Board of Trustees has not yet advertised the position's opening, but Donna Lawson, who has worked with other Family Promise organizations, is going to step in to help lead the group on an interim basis.
"We haven't really crossed that (hiring a director) bridge, one, because we feel like we can't post an appealing job position until we have our financial house together," Zimmerman said. "Two, we feel like we need to take this moment to kind of step back and say 'OK, let's really look at how we got here and how do we correct this so we're not here again.'"
The news isn't all bad on the donations front, however.
Zimmerman said donations are up this year. Between Jan. 1 and the beginning of this month, Family Promise received $262,922, which means the organization is already ahead of its total for all of last year.
A big part of that is due to increases in the amount of money coming in from fundraisers, grants and individual contributions.
Grant funding for this year already totals $64,049 — more than $30,000 above the 2017 total — while individual contributions are also above last year's total, with $41,696 having already come in this year.
Meanwhile, at $91,100, the amount come in from fundraisers so far this year is $688 below the 2017 total. There are two fundraising events, a golf tournament and a 5K race, scheduled to take place this fall, which will take this year's total higher.
"We feel like things are looking up, but we've been hit by this cash flow window that has become a challenge for us," Zimmerman said.
There are some donation categories that are still far below their 2017 totals, including corporate donations, which, at about $16,186 so far this year, are less than half of what they were last year. Donations from church congregations are also nearly $13,000 away from reaching the 2017 total.
Right now, the biggest opportunities for community to support Family Promise will be the upcoming fundraising events.
The first is the Family Promise Golf Tournament at Reunion Country Club in Hoschton on Oct. 15, and the other is the Ordner 5K at Lions Club Park on Oct. 20. Information about both events is available on familypromisegwinnett.org. An Eventbrite for the 5K can be found at bit.ly/2CWW6or.