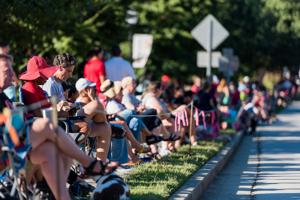 Jumping through the fountains at Suwannee Town Center Park, the dozen-or-so children playing in the water were unperturbed by the brief rain showers that fell over the area Saturday afternoon, laughing as the teens and adults around them scrambled for cover.
As the rain let up, men, women, children and pets emerged from blue and white tents that dotted the park, each of which was operated by a different vendor.
Food and drinks in hand, Suwanee Fest attendees smiled, cooler now that the humidity had broken.
"We've been here multiple times (today)," said Suwanee resident Beth Ayers, who stood with her husband, friends and friends' baby. "We live basically right behind here and we have a teenager who's walking around the (festival) somewhere. We came for the parade (this morning), stuck around, went home and got more people and came back."
For many Suwanee residents, the Ayers perfectly embody the typical Suwanee Fest experience — watching the morning parade and festivities, followed by a brief rest at home and an ultimate return to the event.
While many residents kept with tradition and did just that, this year, Suwanee Fest celebrated more than just the city, encouraging all Gwinnett County residents to attend the two-day festival.
"This is the county's bicentennial," said Amy Doherty, Suwanee events and outreach manager. "We got to take our great community event of Suwanee Fest and merge it with a celebration of Gwinnett County. To have those two things come together, this was an event that was 200 years in the making. We're proud to be part of Gwinnett and love our community festival, so to be able to merge those two things together was just a perfect combination of a win for the county and a win for the people of Suwanee."
Started 35 years ago as Suwanee Day, in 2014, the event changed its name to Suwanee Fest and added another day of celebration for residents, something that was welcomed by many, Doherty said.
"We like to say that (the two) days are the Suwanee-est days of the year," she said. "But it's been great, and it's a complete team effort. We have volunteers that work all year, staff that work very hard, and day-of volunteers always come through. We just have to plan like weather is not a factor and even if it does rain a little bit, it doesn't dampen the spirits of the town and the festival."
Peachtree Corners-based food truck Cattywampus Grill certainly didn't see any spirits dampened by the short-lived rain, which may have actually increased the appetite of festival-goers.
The food truck, which offers "bold, southern, fresh" food, is operated by boyfriend-and-girlfriend duo Shane Betterton and Shayla Brown, one of many couples who served as vendors at this years Suwanee Fest.
For husband-and-wife crafters Ray and Jeannie Terhune, who are also based out of Peachtree Corners — the two own Crafty Creations, a hand-crafted sculpture and jewlery business — Suwanee Fest was a success.
"It's been great," Jeannie Terhune said. "(This is our) first year, and we'll absolutely come back. We always give a show, regardless, two years, because in one try, you really can't get the real feel for the show. But even with (Saturday's) heat, it's still been a really good experience."