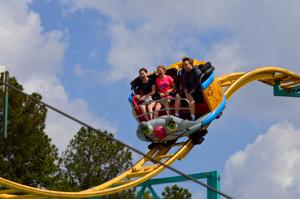 Pam Bloch smiled, pointing to Ellie, the donkey, and Java Chip, Ellie's baby.
On the donkeys' pen hung a short list of facts about the animals, a list that was repeated, albeit with different information for each animal, throughout the 4-H Farm Friends barn at the Gwinnett County Fair.
"This is going to be our 28th year," Bloch, the 4-H agent for Gwinnett, said. "This was started kind of as a replacement for our funnel cake (fundraiser) and it's way better. This is our fundraiser now, but it's also a way for people to just see agriculture in Gwinnett County and see the animals."
While most fairs offer livestock shows and animal exhibits, as counties across the nation become more urbanized, the agricultural aspects of fairs are increasingly overshadowed by the fried food, amusement rides and games, which are staples of any carnival, said Gwinnett County Fair Manager Dale Thurman.
In light of that, the planners of this year's fair, which opened Thursday and runs through next Sunday, placed an emphasis on the agricultural side of things, going so far as to offer a $5,000 scholarship from the Gwinnett County Livestock and Fair Association.
"Banks, Habersham, down in south Georgia and even some other states, that's where (we get) our animals," Thurman said. "As long as we can get animals to come, regardless of where they come from, we want to have it for the kids. But this year, for the first time ever, we offered the scholarship, which they will be presenting at (the fair). We want next year for even more kids to want to take part."
To be considered for the scholarship, applicants were required to write an essay on the topic of the importance of agricultural education and be an active participant in a local 4-H, FFA or other agriculture-related organization.
The goal, Thurman said, is to support the students who will potentially become the agricultural leaders of the future — a dying field in Gwinnett.
Bloch, who went to school for agriculture, said the 4-H barn is also an important tool in supporting future leaders.
"I absolutely love being here with the fair," she said. "I was a kid who grew up with a little bit of agriculture experience, but not a lot. I went to school for agriculture, but growing up not as much, so this is such a great experience. It's everything that is a fair rolled into one."
While this year's fair — now in its 54th year — is certainly placing emphasis on the agriculture and livestock aspects of the 10-day event, other traditional fair staples are also back again, Thurman said.
"We do have a lot of things for people to do," he said. "There will be a bicycle thrill show, there will be a little circus, there will be a butterfly house that should be a lot of fun. You can go in and take a honey stick and feed the butterflies. They were here four or five years ago."
With 53 amusement rides, Thurman said the grounds are just about packed full — and "if there was room for another ride or booth out there, (he's) sure the ride company would be wanting to bring it in."
"(We're) second to the Georgia National Fair in Perry, which is the only fair that gets tax dollars and is run and owned by the state," Thurman said. "We're not county (owned); we're private, so we have to make a living. But we feel like we do a good job with having a lot of things for people to do."
Of course, like at any fair, there's also the food aspect, which Thurman said are your classics — funnel cake, candy apples, turkey legs, BBQ and more.
Bloch said aside from the animals, that's what she looks forward to.
"I have to say, I love the food," she said. "You can't go wrong with it."
Other classic fair events include the Miss Gwinnett Pageant, various concerts scattered throughout the fair's 10-day run and livestock showmanship events.
For a full list of events, visit gwinnettcountyfair.com.