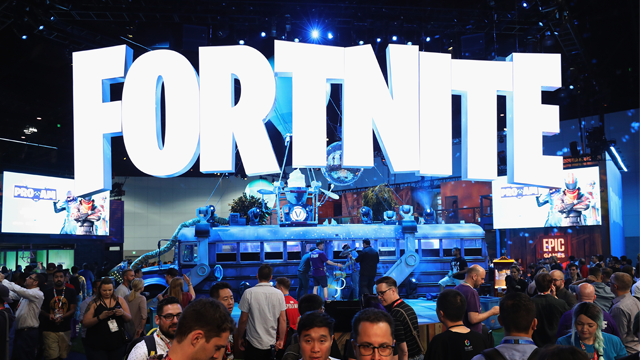 (Meredith) – The parents of a nine-year-old girl in the United Kingdom sent their daughter to rehab after they said she wet her pants while playing "Fortnite" instead of using the bathroom.
According to the Daily Record, Carol and Richard, who withheld their last name to protect their daughter's identity, bought an Xbox for their daughter in January. Soon afterward, the girl downloaded "Fortnite", a wildly popular shooting game where players build forts and try to eliminate other players to be the last one standing.
But it wasn't until mid-March that the parents started noticing changes in their daughter's behavior.
Too tired to do anything
According to Newsweek, Carol and Richard were called into their daughter's school to have a meeting with the girl's teacher. The teacher told them that their daughter's grades were slipping and she had fallen asleep in class twice.
Her parents kept monitoring the situation and began noticing that their daughter was constantly tired. She was too tired to go to the gym or ballet lessons and began missing church on Sunday mornings. They noticed odd purchases on their credit card and asked her about them. She told them it was for items she'd paid for in "Fortnite."
Carol told the Daily Record they were furious and confiscated the Xbox, but their daughter lashed out and hit her dad in the face. They decided they needed to limit their daughter's "Fortnite" time to one hour on school nights and two on the weekends. They did, but they were still suspicious she might be playing when she shouldn't be.
One night, Richard saw his daughter's bedroom light on when she should have been in bed. Carol said he found her sitting on a urine-soaked cushion playing the game. Carol told the Daily Record that her daughter was so "hooked on the game that she wouldn't even go to the toilet."
Their daughter confessed to them that every night for two months she had waited for them to go to bed, then played "Fortnite," sometimes until 5 a.m. They did the math and discovered that their daughter could have been playing an average of ten hours of "Fortnite" a day.
Getting help
The parents reached out to an addictions counselor, Steve Pope, who said he already had dozens of parents approach him asking for help with their children who were addicted to "Fortnite."
Pope said he had heard of cases where kids were stealing from their parents and friends to pay for in-game purchases and some who had even been urinating in bottles because they didn't want to leave the game.
According to The Mirror, Carol and Richard's nine-year-old daughter is getting back on track.
How popular is Fortnite?
"Fortnite" was launched in July 2017. Since then, 150 million people across the world have played it, including professional gamers who can make almost $600,000 a month via livestreaming "Fortnite" games. Fortnite reportedly generated nearly $300 million in revenue in April 2018.
Experts like Pope are saying that the celebrity endorsements of "Fortnite" have fueled the exposure to the game.
Keeping your kids safe
The Mirror has a list of six tips parents can use in order to keep their kids safe when they are playing online.
Make sure the game is age appropriate.
Monitor who your child is talking to online.
Manage in-game purchases.
Set time limits.
Join in and turn it into a family activity.
Stay updated on games like "Fortnite."