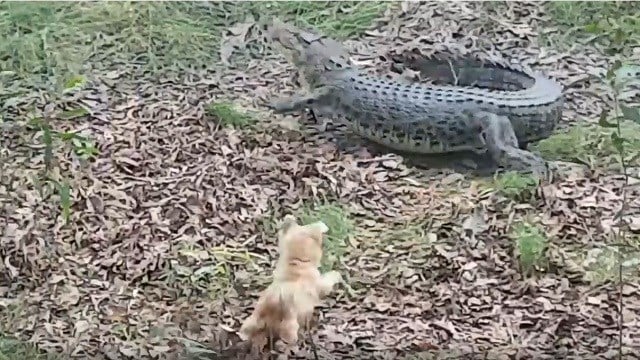 (Meredith) — After years of living near each other, a crocodile finally got revenge on a dog that tormented it for a decade.
Pippa the terrier lived happily with her owner Kai Hansen on a remote island in the Northern Territory of Australia. A crocodile that lived in the Adelaide River near Hansen's home was frequently spotted — enough that Hansen called the crocodile his pet and named it Casey.
Hansen and his odd lifestyle caught the eye of ABC News Australia and prompted a special feature story in 2017. After the story came out, 15-pound Pippa became famous for chasing and taunting the nearly 12-foot-long croc. Pippa would bark and nip at the reptile's tail, chasing Casey back into the river.
Videos show Pippa's bravery as she consistently bossed Casey around.
Unfortunately for Pippa, Casey finally had enough after 10 years. Onlookers watched Pippa run right up to Casey like always, getting ready to chase the crocodile back into the water. But this time, people watched in terror as Casey lashed back at the dog, taking Pippa in his jaws and pulling her underwater.
The incident was caught on video. In a matter of seconds, Casey snatches Pippa and disappears into the river as screams emerge from people watching the incident unfold.
Hansen told ABC News Australia he was extremely sad about the incident, but that Casey was just "doing what crocs do."
"It was something that had a high probability of happening sometime," Hansen told ABC.
Hansen added that he has not watched the video of Pippa's death and does not plan to.
Some people on social media have blamed Hansen for being an irresponsible pet owner for allowing Pippa to get so close to Casey.
Hansen, however, said it was just in Pippa's unique nature that she wanted to chase Casey.
"A little terrier should not do things like that," Hansen told ABC. "But should I stop her? I don't know, she got away with it for 10 years."
Hansen said he plans on getting another dog and will "definitely" ensure it does not chase crocodiles.