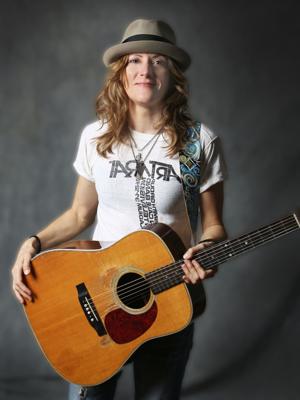 For those who've never experienced a Michelle Malone live show, you've missed her incredible range, from hurricane-force vocals and spitfire guitar licks to sweet and soulful ballads. For those who have seen her, you're the choir. All you first-timers, prepare to be baptised.
The beloved Atlanta born-and-bred Malone brings her dynamic vocals and slide guitar to the Train Depot on Saturday for an unplugged acoustic show with Atlanta guitarist Reno Roberts.
Following a tumultuous experience with Arista Records in the early 1990s with her band Drag The River, Malone established herself thereafter by becoming one of the first artists to go independent, self-releasing every album she's recorded. And it's worked well for her. For more than 25 years she's made a good living making music on her own terms. It helps that her vocal range is such that she could put a baby to sleep with the gentle "Leather Bracelet" from her 2006 Sugarfoot album or wake the dead with a fiery roadhouse blues, all-out rocker like "Traveling and Unraveling" or "Black Motorcycle Boots," also from Sugarfoot. She slings a powerful slide-guitar, shattering the usual distinction between male or female guitarist — gender is irrelevant when Malone is in the zone. She's simply an amazing guitarist, no labels needed.
She'll be supporting her latest release, Slings and Arrows, (her 15th album) which some fans and critics have said is her best work yet. "I really don't know what makes a great record," Malone said. "I just try to be authentic and capture that sound, to play what feels good in the moment." The album was recorded at Jeff Bakos' studio in Atlanta, live with minimal overdubs. A standout track is a cover of Otis Redding's "I've Been Loving You Too Long" as a duet with Shawn Mullins, and the result is transcendent.
At a recent show at Eddie Owen's Red Clay Music Foundry, part of the Wednesday Writers series hosted by local singer-songwriter Chuck McDowell, Malone performed a stunning solo acoustic version of the album's opening track, "Just Getting Started." She blew the doors off the place, the audience sitting in stunned silence — a collective deer in the headlights of Malone's brilliance — before breaking out in thunderous applause.
The album is a fiery and complete record, at turns upbeat, defiant, jubilant and optimistic, with a mature and raw sense of self-awareness. The overarching message here is one of inclusion, recognizing that we're all just trying to make our way in the world.
On the upbeat "Love Yourself" she sings, When they go low, we go high. / Do unto others even when we don't see eye-to-eye. / You know I love my country, but she sure enough can make me cry. / Just imagine how great we'd be if we were unified.
Malone considers the album a "Georgia record" due to the fact that the musicians, studios, and even those responsible for the visual art are all Georgians.
"I take a lot of pride in Georgia and the importance that Georgia music has played not only in my music but also in American music in general," she says. "Georgians such as Little Richard, James Brown, Ray Charles all laid the groundwork. Without them, we would never have had Elvis, the Beatles, the (Rolling) Stones — there would be no rock and roll. I made a conscious effort to capture some of these Georgia roots on this record."
Her powerful slide guitar on the blues numbers "Just Getting Started," "Beast's Boogie" (co-written with McDowell) "Boxing Gloves" and "Civil War" begin with a hint of John Lee Hooker, simply reflecting their similar guitar styles.
"I steal from the best," she said with a laugh. "They all just happen to start out that way, and I make a conscious effort to bring them around the sun to change that, strip them down and dress them up again."
On writing with McDowell, Malone said, "I'm one of those writers that doesn't have a lot of discipline and I don't write all the time. Chuck's a great songwriter and he was able to pull lyrics out of me. He knew what I wanted to say."
One of the most personal and emotional songs, "The Flame," was co-written with Eliot Bronson and hits close to home for Malone, touching on a divisive time for her and her family. The line is drawn now between you and me. / Bitter fruit grows on the tree. / When the ground drops out from beneath your shoes / because your family, they didn't stand by you.
Fortunately, time has healed those wounds.
"That's all smoothed over," she said. "My mom and I are both headstrong people. When we argue, we're both right! But that was just a blip in time. Actually, we're having dinner together tomorrow."
Malone laughs when presented with the metaphorical idea of healing a divided country by everyone simply having dinner together. On Slings & Arrows, Malone is certainly taking arms against a sea of troubles, and by opposing, ending them.