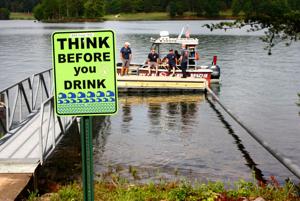 As the Georgia Department of Natural Resources' Game Warden boat approached Davis O'Brien and his two friends, the young man nervously greeted the rangers.
"I'm State Game Warden Ryan and this is my partner, Matt," DNR ranger Ryan Locke said to the men. "The reason we stopped you is because we need to perform a safety inspection. We need to see enough wearable Coast Guard approved life jackets for everyone on board, a fire extinguisher and a type-4 throw cushion."
As O'Brien handed Locke the items, the ranger smiled, asking the boys if they had any fish on board.
"I wish," O'Brien said, laughing.
"Alright — you're all set," Locke said. "Have a nice day."
Thursday morning's interaction, which lasted just over a minute, is one of many boaters on Lake Lanier and other Georgia lakes should be prepared for going into this Memorial Day weekend and throughout the summer.
While Locke and his partner, Matt Johnson, said they usually don't stop boaters simply to perform safety checks — usually, it's a possible violation that catches the rangers' eye — they said given the number of drownings and boating under the influence arrests already recorded this year statewide, 12 and 23 respectively, they will be stepping up their enforcement considerably.
But it's not just DNR that's stepping up its enforcement this Memorial Day weekend, which, for all intents and purposes, marks the beginning of summer in Georgia.
Across Georgia, city, county and state law enforcement are working together to keep residents and visitors safe on land, on the roads and in the water.
"This weekend, a lot of us are looking forward to time off, but law enforcement and fire/EMS personnel are going to be out there working and making sure that everyone has a really safe holiday weekend and is able to get home alive," said Robert Hydrick, communications director for the Governor's Office of Highway Safety (GOHS). "That's our message here at the Governor's Office of Highway Safety — we want everyone, not only this weekend but throughout the summer — to go out, have a good time, but get home safely."
Hydrick said people "do that by slowing down on the roads, paying attention and taking that second to wear your seat belt. It takes just a second to make that click that could save your life."
Thursday's news conference, which brought together Gwinnett, Forsyth and Hall county fire and law enforcement personnel, as well as state officials, kicked off GOHS' annual summer safety tour, which is held just before Memorial Day each year.
This year's theme is "make your summer click," which stresses the click of seat belts and of life jacket buckles.
"Since January 1 of 2016, more than 1,500 people who have been killed in traffic crashes weren't wearing their seat belts," Hydrick said. "That's more than 50 a month, and out of those 1,500, you have to guess, with the law of averages, that at least 65, 75 — who knows, even 80 — percent of those people probably would still be alive today had they made that decision to take that second to click and wear that seat belt."
Georgia State Patrol Capt. Mark Perry, a spokesman for the agency, also reminded residents that the Friday before Memorial Day is consistently the busiest day of travel in the summer and that given the number of people on the roads, drivers need to be extra aware.
"Friday (marked) the beginning of what has historically become one of the most heavily traveled, dangerous and congested times on Georgia roadways," he said. "During the upcoming months, kids are out of schools, families are traveling to visit loved ones far and near and taking those much needed vacations, and on a daily basis, we're all headed to the lakes and rivers to get some recreation.
"During this time of increased travel, I want you to understand the Department of Public Safety's number one priority is the safety and security of all the motorists on all the roadways in this state. As we travel point to point, we can expect diligent enforcement, especially of the most dangerous and deadly violations. If you need that warning during the holiday period, this is it: there will be zero tolerance for DUIs, aggressive driving, reckless driving or inattentive driving."
The same goes for boating, Georgia Department of Natural Resources Law Enforcement Division Director Col. Eddie Henderson said.
"A drunk driver becomes a drunk boater and a drunk boater becomes a drunk driver," Henderson said. "Just don't do it. Last year, Game Wardens arrested 189 people for Boating Under the Influence in our state; we've arrested 23 this year and the boating season hasn't begun yet. DNR and state patrol have zero tolerance for impaired drivers and operators."