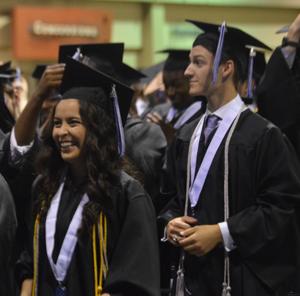 What is the cost of success and the cost of graduation? Senior Jayvon Nougaisse posed that question to his fellow classmates, parents and faculty during Gwinnett School of Science, Mathematics and Technology's graduation on Thursday afternoon.
For the school, the cost of success has relied heavily on the talented minds of Gwinnett, transforming the school in a little more than a decade from an idea to a state and nationally recognized program.
Nougaisse said the cost goes beyond students' hard work. He also attributed it to the dedication and sacrifices that parents and teachers make.
"They wake up every morning Monday through Friday to provide for us," Nougaisse said. "For that, we need to thank them."
In the last four years, GSMST has held the distinction of being rated the No. 1 school in the state of Georgia three times (2015, 2016 and 2018) by U.S. News and World Report.
The school opened its doors in 2007, and it was ranked the third best school in the country in 2013 and 2014, and fourth overall in 2015.
But behind the numbers and accolades, 170 students were able to celebrate another achievement: graduation.
"We represent the whole district; we have students from every middle school and every geographic corner of Gwinnett County," GSMST Principal IV Bray said. "There's a lot of talent in Gwinnett, and we're privileged to serve the entire county."
Bray, who is in his fifth year as a principal of the school, said it's a pleasure being able to watch students come into the school as talented freshmen and see them leave as well-rounded graduates.
"It's exciting to see," Bray said. "Seeing how they are when they are 14 and watching them grow up at 18 and walk across the stage is not sad, but rather validating."
During graduation, half of the students were recognized as honor graduates, meaning they achieved a cumulative average of 90 or above throughout their time at the school.
The class of 2018 adopted the motto "Cool V18es" (Cool Vibes).
Salutatorian Frank Hu took time to reflect on the end of high school not being the end of everything, but rather the end of the beginning phase in their lives.
The valedictorian, Iris Galfas, made a short speech, "So Long, and Thanks for All the Fish."
"We made it at one of the toughest high schools in all of Georgia," Galfas said during her speech.
During her high school career, one of the lessons she learned was confidence.
"When I first got here, I was lost and had no idea where to go," Galfas said. "I was too scared to even ask an upperclassman where to go and took out a map instead during orientation. If I had the confidence to ask for somebody's help, it would have been easier.
"That was the first thing I learned while at GSMST," she said. "The confidence to act like I know what I'm doing and the confidence to ask for help when I don't."
Galfas said what makes GSMST unique is all the different people that come to the school.
"Each and every one of us has different talents. Some people are good at science, some are athletic and still others prefer academics. This is your life, class of 2018, and not anyone else's, so you should live it in a way that makes you happy."