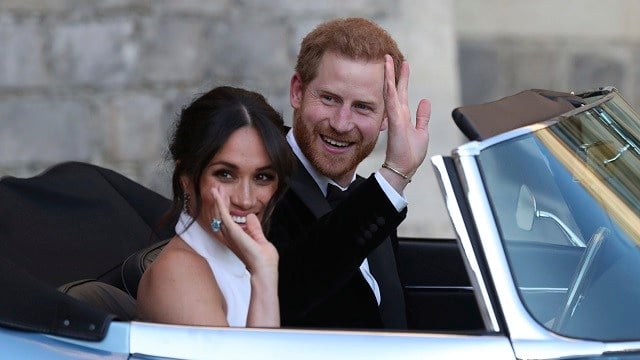 (CNN) — For Harry and Meghan, it was the morning after the night before. For the rest of Britain, it was a day to reflect on an electrifying wedding that's being hailed as a transformative moment for the British monarchy.
After a ceremony that shook up royal tradition, a biography of the new Duchess of Sussex has appeared on the website of the British royal family, and it firmly emphasizes her activist credentials. High on the page, in a bold font, is a quote from a speech the then Meghan Markle delivered on International Women's Day in 2015: "I am proud to be a woman and a feminist."
It is a quote that says much about the newest member of the royal family, whose decision to walk unaccompanied part-way down the aisle of St. George's Chapel at Windsor Castle set the tone for an unconventional royal wedding.
The last public glimpse of the Duke and Duchess of Sussex was on Saturday evening when they swept out of Windsor Castle in a vintage Jaguar convertible and drove south to Frogmore House, where Harry's father, Prince Charles, hosted an evening reception for 200 of the couple's friends and family.
Fireworks lit up the sky as guests, including the tennis star Serena Williams and the Bollywood actress Priyanka Chopra, celebrated alongside members of the Royal Family.
For the evening reception, Meghan changed from her boat-neck Givenchy wedding gown into a bespoke, lily-white Stella McCartney high-necked dress. She also wore an emerald-cut aquamarine ring that once belonged to Harry's mother, the late Diana, Princess of Wales. Harry switched into black tie after wearing military dress for the ceremony.
Harry drove Meghan from Windsor Castle to Frogmore House in a vintage Jaguar E-Type Concept Zero. It was originally built in 1968 but has recently been converted to electric power. It bore the number plate E19 05 18 — the date of the wedding.
Few details were released about the later party, but some of the celebrity invitees, including Williams, shared pictures of their own outfit changes on Instagram. CNN's Max Foster had said it was likely to go late into the night. "You know, Harry's a bit of a party animal. We know that."
Markle is also understood to have made a speech at the party — another break with tradition in what was a royal wedding like no other.
The afternoon reception was hosted by the Queen at Windsor Castle's St. George's Hall. The 600 guests who attended the wedding ceremony heard Elton John — who was a friend of the late Princess Diana and played at her funeral — performed three songs. The best man, the Duke of Cambridge, acted as compere.
Rather than a traditional sit-down meal, guests were served canapes featuring langoustines and asparagus and "bowl food" that can be eaten standing up. A famously non-traditional, lemon-and-elderflower sponge cake chosen by Harry and Meghan was cut and served.
'I am proud to be a woman and a feminist'
After Meghan and Harry were married, a new page appeared on the royal website that listed the Duchess of Sussex's campaigning history.
It notes that her activism began as a child: "Aged 11 she successfully campaigned for a company to alter their television advert that had used sexist language to sell washing-up liquid," the biography says.
It highlights her work on women's empowerment through the UN Women and World Vision organizations, featuring the quote from a speech she delivered to a UN forum on International Women's Day in New York in 2015. "I am proud to be a woman and a feminist," it reads.
The biography also features a section on the Duchess of Sussex's career and education, mentioning her role as Rachel Zane on more than 100 episodes of the TV series "Suits," and her foreign language skills in Spanish and French.
"Alongside her successful career as an actress, Her Royal Highness also wrote and edited a lifestyle website called The Tig which she used as a platform to discuss social issues such as gender equality in addition to articles on travel, food and fashion," the biography notes.
Unconventional ceremony
It was clear from the start of Saturday's ceremony that Meghan would challenge convention, walking unescorted down the aisle of the nave in St George's Chapel, followed by her 10 bridesmaids and page boys.
Only when she reached the chapel's Quire was Markle accompanied for her final steps to the foot of the altar by Prince Charles. Even then, he stepped back. There was no one needed to "give her away."
Her elegant dress was designed by Clare Waight Keller, the first female designer of the French brand Givenchy.
The ceremony went on to feature a rousing, fiery address from Chicago bishop Michael Curry, a gospel choir and a diverse array of guests from blue-blood royals to Hollywood celebrities.
"By having so many multi-cultural elements in the ceremony, finally we had a royal occasion that not only represented modern Britain but sent a real positive message to the world," Sandro Monetti, a British journalist now based in Los Angeles, told CNN.
"Small details can have a big impact. Finally the royals are in the 21st century and look young, vibrant and cool again."
On Sunday the royal family thanked everyone who supported the wedding, from the more than 100,000 who came to Windsor to those who followed the day from around the world.
Straight back to work
Harry and Meghan have opted not to take a honeymoon right away. For their first royal engagement as a married couple they will attend Prince Charles 70th birthday party at Buckingham Palace on Tuesday.
This isn't without precedent. In 2011, Prince William and Catherine, Duchess of Cambridge, waited a couple of weeks before heading off on their honeymoon in the Seychelles.
From Australia to India, their trail-blazing wedding dominated front pages of newspapers around the world and was a huge social media moment with #RoyalWedding hashtag tweeted 3.4 million times Saturday.
Huge crowds had descended on Windsor, west of London, to catch a glimpse of Harry and Meghan and soak up the party atmosphere.
Viewing parties were also held across the United States, including at Markle's former school in California, Immaculate Heart High, an all-girls private Catholic school in Los Feliz. Students showing up in their pajamas as early as 2 a.m. to snag a spot in the school gym.
Bishop Michael Curry, the first African-American head of the Episcopal Church in the United States, who gave the powerful sermon, summed up the event's appeal.
"You could visually see a relationship — we saw that. And it was contagious in the room, you could feel it in the church and people were happy. They were happy and joyful and thankful, and you know what we need some joy in this world," he said after the ceremony.
By Katie Hunt and Laura Smith-Spark, CNN
The-CNN-Wire
™ & © 2018 Cable News Network, Inc., a Time Warner Company. All rights reserved.