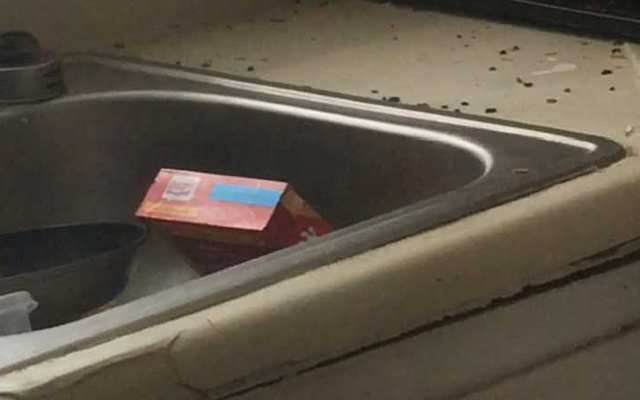 ATLANTA (CBS46) -

Residents of an Atlanta apartment complex say they're being overrun by rats as big as cats.
Tenants at the Alison Court apartments in Atlanta captured rodents on tape and asked CBS46 to hold management accountable.
Dirty, nasty rats that spread disease and leave little droppings behind are nesting in the walls of Anastasia Blakney's apartment and she's had enough.
Blakney and her two year-old daughter moved into the Alison Court apartments several months ago. Blakney says within weeks, she was calling management daily to get rid of the pests.
"I'm seeing them jump, they're coming from all directions," says Blakney. "They're coming out in the daytime and that's how you know when it's an infestation."
Blakney says crews came and sealed it up, but every morning she sees rat droppings on the floor. She shot cell phone video to prove to management the infestation was out of control.
"I was getting my daughter ready for school and she had a rat dropping in her hand. She was about to put it in her mouth," continued Blakney.
Blakney says management attempted to resolve the problem by laying out sticky traps. An outside exterminator was even brought in to treat the exterior of the building but it was still not enough.
"One night, I went to make myself something to drink and in my drawer, there was four mice," says Blakney.
Fed up with the situation, Blakney withheld rent and moved in with a friend, promising to pay her debt when the rats where removed.
Instead, she was evicted and barred from getting another apartment until her credit is cleared up.
CBS46 asked management at Alison Court several times to speak on camera but they declined, saying the problem wasn't them. They say it was Blakney because she refused to clean the unit. Management also claims the unit is now rodent free.
CBS46 did some checking and no matter how frustrated you are, you must follow the law.
In Georgia, if you have a problem with your landlord, you can't withhold rent. You can either hire an attorney and keep the rent in escrow until the issue is resolved, or pay the rent until management resolves the problem.
At the very least, file a complaint with the Atlanta Housing Department to make City Hall aware of the property.
Copyright 2018 WGCL-TV (Meredith Corporation). All rights reserved.