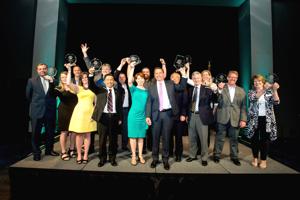 The Gwinnett Chamber recognized nine Gwinnett County companies on Wednesday for the service they have provided to customers and the community.
The chamber announced the winners of its annual IMPACT Regional Business Awards during a luncheon at the Infinite Energy Forum. Nearly 150 companies and organizations were in the hunt for awards this year, but it was Holtkamp Heating and Air that won the overall IMPACT award. The company also won the Small Business Award.
"These organizations' contributions enrich our community. It's exciting to share in their success, and we are honored to recognize them," Gwinnett Chamber President and CEO Dan Kaufman said.
Holtkamp Heating and Air was recognized for the quality of service it provides customers, which the chamber described as "consistent, friendly, high-quality." The company has been around for more than 20 years.
"This company has always stuck to its mission of providing a solution rooted in building science, only recommending reliable equipment, at a fair price, with a superior professional installation," the Chamber said in a statement.
Awards were also handed out in the areas of education; architecture, engineering and construction; health care; hospitality; information technology; nonprofits; service industry and international businesses. The awards luncheon was presented by Eastside Medical Center and Renasant Bank.
The full list of winners includes:
2018 Overall IMPACT Regional Business Award: Holtkamp Heating & Air
Small Business Award: Holtkamp Heating & Air
AEC (architecture, engineering and construction) Award: Axis Companies
Education Award: Georgia Gwinnett College School of Business
Healthcare Award: View Point Health
Hospitality Award: Mitsubishi Electric Classic
Information Technology: Halski Systems
International Award: Mitsubishi Electric US, Inc. Cooling & Heating Division
Nonprofit Award: Leadership Gwinnett
Service Industry Award: Marbury Creative Group