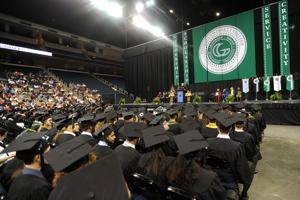 Due to rain in the forecast for Thursday, Georgia Gwinnett College has moved its spring commencement ceremony indoors to the Infinite Energy Arena.
It will be the first time in nine years the spring ceremony will not be held on campus.
"It is the one time each year that we bring our graduates together with their family members and friends on our beautiful campus to celebrate one of the most important days of their lives," President Staś Preczewski said Tuesday in a statement. "Unfortunately, this year, the weather is not cooperating with our plans."
Just last week, Georgia State University in Atlanta got the attention of local media when students voiced their displeasure for the school abruptly stopping the commencement ceremony being held at the stadium due to an incoming storm. Many demanded a do-over, and an online petition had more than 1,200 signatures. The school said it had no plans to reschedule.
"…please rest assured that my top consideration is to ensure that our graduates are properly recognized, diplomas are issued by a senior school official and that the event is pictorially memorialized, superseded only by my duties to ensure that our graduates and guests are kept safe," Preczewski said.
Dr. Daniel J. Kaufman, founding president of GGC, will be the keynote speaker for the college's spring commencement.
Kaufman served as president of GGC from 2005 until 2013 when he became president and chief executive officer of the Gwinnett Chamber of Commerce.
The ceremony will be held at 9 a.m.