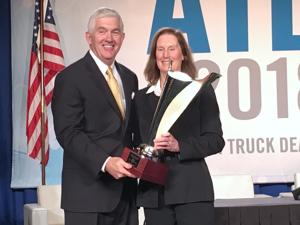 Norcross is home to the top truck dealer in the nation, according to industry insiders.
American Truck Dealers, Heavy Duty Trucking magazine and Procede Software recently named Peach State Truck Centers President Richard Reynolds as their 2018 Truck Dealer of the Year. The national award was presented to Reynolds during a ceremony the American Truck Dealers 2018 ATD Show in Las Vegas on March 23.
"There are 600 sets of fingerprints on this award today that belong to all of our employees," Reynolds said at the ceremony. "There are two people who should be here to accept this award, my father and my brother, who have both passed. This great honor is a beautiful way to honor my father and brother's memories."
Reynolds worked his way up the ladder at Norcross-based Peach State Truck Centers to become its president. Twenty-two years ago, he started out as a second shift service adviser where he worked with service, warranties and leasing.
He moved up in the company, and graduated from American Truck Dealers' Dealer Academy which allowed him to move into strategic project leadership.
Reynolds was named Peach State Truck Centers president in 2007.
The company said that it went from having one Ford and Sterling dealership to having seven brands, 11 locations and 180 service bays in Georgia and Alabama under his leadership.