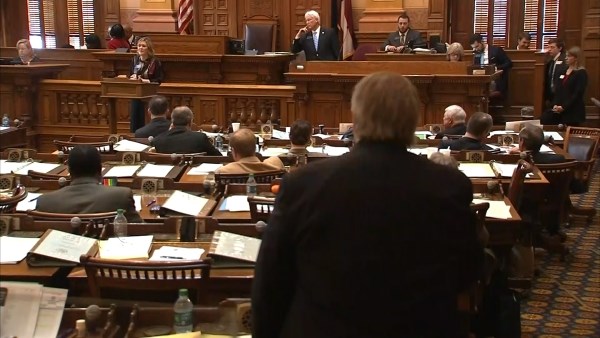 Source: WGCL
ATLANTA (CBS46) -

Hollywood writer and producer Ben Wexler, known for his work on several popular television shows, is calling for a boycott of the Georgia film industry if a controversial bill passes through the state legislature.
He's talking about Senate Bill 375, or the "religious liberty bill", which would allow adoption agencies in the state to use their religion as a justification for denying gay couples the chance to adopt. The bill would allow taxpayer-funded adoption agencies the right to turn away married gay couples seeking to adopt children from foster care.
The bill passed the Senate on Friday but still has a long way to go before it can become law. Lawmakers behind the bill say it would encourage more adoption agencies to open in the state. Opponents say it would be discriminatory to gay couples.
Some people in the LGBT community say the bill will mean parents and even kids will be discriminated against. Those who are for the legislation say that faith-based agencies are the ones who need protections from discrimination and the freedom to express their religious beliefs. 
Wexler, who's known for his work on the shows "The Grinder", "Community" and "Arrested Development", posted a tweet Sunday night that read, ""To my fellow showrunners: if this dumb bill becomes law, let's be done filming television shows in Georgia."
The film industry in Georgia is booming and is a huge source of revenue for the state. It is unclear if threats of a boycott would change the minds of lawmakers. In the past, Governor Nathan Deal has vetoed legislation that fell under the banner of religious liberty or religious freedom after major concerns from the LGBT community. 
A protest is scheduled for March 1 at Central Presbyterian Church, across the street from the state Capitol in Atlanta.
Stay with CBS46 News for updates.
CBS46 wants to know what you think. Do you think adoption agencies should be able to deny an adoption based on religious beliefs? Vote in our online poll or sound off on the CBS46 Facebook page. 
Copyright 2018 WGCL-TV (Meredith Corporation). All rights reserved.