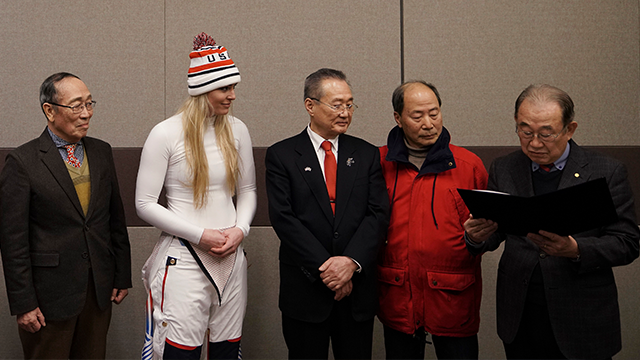 (AP/Meredith) – Lindsey Vonn came to South Korea with the goal of taking home an Olympic medal and leaving behind something even more special.
She did both.
The American ski great said Thursday she recently scattered some of the ashes of her grandfather, who served during the Korean War, on a rock near the mountain where the downhill races were run.
"I know that it would mean a lot to him to be back here, a part of him is in South Korea always," said Vonn, who shared her story with The Associated Press and the Chosun Ilbo newspaper.
Vonn said she sprayed parts of Don Kildow's ashes "just a few days ago" on a rock that she was told was special when she visited South Korea last year to be named a Pyeongchang Olympic ambassador. She described the location as "right by the men's downhill start."
Vonn burst into tears when she was asked about her grandfather during a news conference in Pyeongchang this month before the Olympics. He lived in Milton, Wisconsin, and died in November.
"I miss him so much," she said. "He's been such a big part of my life. And I really had hoped that he would be alive to see me (at this year's Olympics). But I know he's watching, and I know that he's going to help me and I'm going to win for him."
[Related: Sofia Goggia takes downhill gold; Lindsey Vonn earns bronze] 
Vonn won a bronze medal in the downhill , but skied out of Thursday's slalom leg of the Alpine combined in what was likely her last Olympic race. Later in the day, a group of elderly South Korean men gave her family some gifts and a letter of thanks to mark her grandfather's service during the 1950-53 Korean War.
"To be able to race for him in these Olympics was very special for me. And I tried everything I could to win for him," Vonn said. "I got a bronze, which, you know, to me was very special. And I think he would be proud of that."
During Thursday's brief meeting with seven elderly South Korean men, Vonn nodded a greeting several times and repeated "thank you so much" to them. In their letter of appreciation, the South Korean men said they expressed their thanks for what they call her grandfather's contribution for the freedom of South Korea. They also gave her traditional Korean fashion accessories and gloves.
Kildow served two years in South Korea in the Army Corps of Engineers in areas near Jeongseon, one of the three Olympic venues. He never had a chance to return to South Korea, but he had talked about the country in a "very favorable" way, according to his son, Alan Kildow, who attended Thursday's event with his two other daughters.