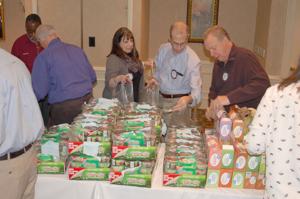 The Rotary Club of Gwinnett County decided to give some economically disadvantaged people in the county an early Valentine's Day gift this past week.
Club members spent Tuesday packing more than 300 bags of food for people in the county who are dealing with food insecurity because they may not be able to regularly buy something to eat. The work was done as part of their project for the Rotary Has Heart program.
"This project was an excellent way for us to actively address several goals of our club at once," Rotary Club President Jennifer Hendrickson said in a statement. "We believe no individual should have an empty plate or empty stomach — this is a great way for us to help bring a ray of hope to the hidden hungry."
The Rotary Club of Gwinnett County does its Rotary Has Heart program in partnership with Gwinnett Seniors and View Point Health. Club members donated $7,720 to buy the supplies for the food bags. Each bag included canned tuna or chicken breast, vegetables, fruit cups, crackers, oatmeal and cereal.
The process of assembling bags went quickly, with Rotarians getting all of them assembled in less than 20 minutes.
The food was intended for low-income people in the county that Gwinnett Seniors and View Point Health determined needed supplemental food during the winter.
Once the bags were assembled, they were put in boxes which were split between Gwinnett Seniors and View Point Health and made ready for distribution that afternoon.
"This is amazing," Gwinnett County Health & Human Services Division Director Pat Baker said in a statement. "We are going to be able to touch the lives of so many with these bags."
Meanwhile, View Point Health CEO Jennifer Hibbard said, "Rotarians are people of action and it really shows today. We are so grateful they care and have such big hearts."
Rotary International's Zones 33 and 34, which include the mid-Atlantic and Southeastern United States, Puerto Rico and other parts of the Caribbean, French Guiana, Guyana and Suriname, organizes Rotary Has Heart annually. The goal is to have local Rotary Clubs take on a project to address hunger in their communities.
"The Rotary Has Heart Hunger Project is a great opportunity for our club to give back and live out our motto, service above self," Hendrickson said. "As Rotarians, we are making a difference every day, and it especially shows through projects like this.
"Our members were thrilled to serve side-by-side, packing each food bag with care. This project today is a great example of how Rotary can be a game-changer in our community."