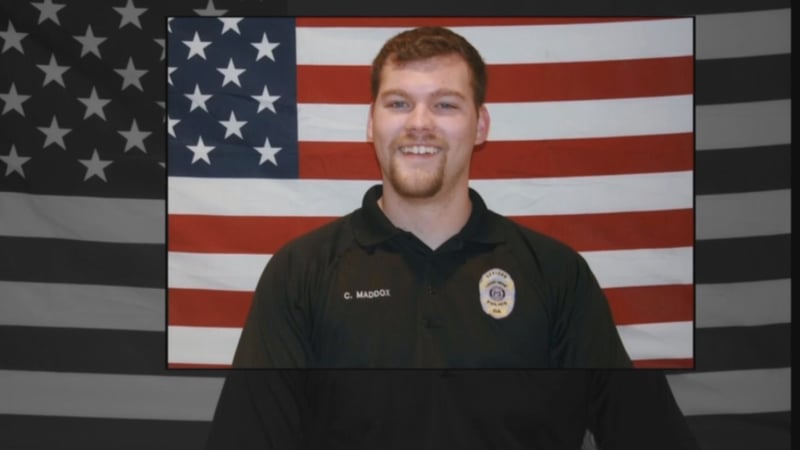 Source: WGCL
Source: WGCL
SPALDING COUNTY, GA (CBS46) -

Locust Grove Police Officers, family members, and friends are gathered at Glen Haven Baptist Church in McDonough for the memorial service of slain officer Chase Maddox.
On Friday, flags at all government buildings in the state were lowered to half-staff in honor of the fallen officer, who was shot and killed in the line of duty last week.
The public can view the memorial service here.
Chase Maddox, a five-year veteran of the Locust Grove Police Department, was fatally shot during the incident on February 9. Henry County Sheriff's deputies Michael D. Corley and Ralph Sidwell Callaway were also shot in the neighborhood just off of LG Griffin Road in Locust Grove, near St. Augustine Parkway. 
They were trying to serve a warrant for 39 year-old Tierre Guthrie.
All three officers were transported to local hospitals, but unfortunately, Maddox died from his injuries. An autopsy revealed he was shot three times, with the fatal wound being to the head.
During a church service at Mount Zion United Methodist church in Spalding County on Sunday, the congregation held a moment of silence for officer Maddox and deputies Corley and Callaway. Deputy Corley's older brother, Pastor Wade Corley, preached for the first time since the shooting. His sermon was titled, "when there is no answer."
As a mark of respect for the memory and sacrifice of Locust Grove Police Officer Chase Maddox, who was tragically killed in the line of duty, I've ordered flags fly at half-staff in Henry County and on State Capitol Grounds tomorrow. pic.twitter.com/VV8N3Sz7p0

— Governor Nathan Deal (@GovernorDeal) February 15, 2018
"He's doing better," said Wade Corley. "He's reliving it over and over. That's the hardest part. Being a survivor and also knowing that a fellow officer didn't make it. It's been very hard on him.
Meanwhile, Maddox leaves behind two young sons and a wife.
A GoFundMe page has been set up to help the family pay for funeral expenses.
Copyright 2018 WGCL-TV (Meredith Corporation). All rights reserved.