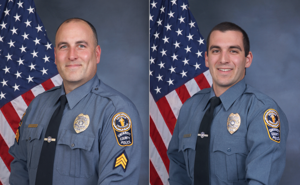 Gwinnett County District Attorney Danny Porter will seek felony charges against two former Gwinnett police officers who were caught on camera last year beating a man following a traffic stop, a proposed indictment says.
The indictment, which will be presented to a grand jury on Feb. 28, includes a new charge — aggravated assault — which stems from the officers, former Sgt. Michael Bongiovanni and former Master Officer Robert McDonald, pointing a gun at driver Demetrius Hollins, a copy of the bill states.
The indictment, which was obtained by the Daily Post, also includes violation of oath of office charges, a "false official certificate of writing" charge against Bongiovanni for allegedly lying about the incident and several battery charges against both men.
The two were fired last April after video was taken of them assaulting Hollins, which later went viral.
"I'm literally sick about it," Gwinnett County Police Chief Butch Ayers said at the time. "Literally sick. These aren't the standards that we have and this is not the culture that we promote within this department."
The video first surfaced on April 12, several hours after the assault occurred near the Lawrenceville-area intersection of Sugarloaf Parkway and Lawrenceville-Suwanee Road.
In it, McDonald is seen kicking Hollins while he is handcuffed on the ground. Ayers said previously there was no defense for that violence.
"The fact of the matter is, the suspect was in handcuffs, the suspect was on the ground, the suspect was not resisting," he said. "At that point, that's it. There should have been no other application of force."
Bongiovanni's attorney, Mike Puglise, told the Daily Post that he felt the felony charge of aggravated assault was "a little overreach(ing.)"
"Although I respect the District Attorney, the indictment concerns me," Puglise said. "Basically, (the indictment) is asking (officers) to second guess every situation they put themselves in and it's kind of tying their hands behind their backs. It's setting a really high bar for these officers who risk their lives to protect the citizens of Gwinnett County and basically telling our officers that they cannot even remove their gun from their holster even when their instincts tell them to."
Puglise, a former police officer, added that the repercussions from the indictment — and any convictions it may result in — could have potentially deadly consequences.
'The issues that were raised (as part of the indictment) are alarming for our police officers," he said, "because we are (now) asking these officers, who are confronting split-second decisions, to take a pause, and that pause could (jeopardize) their lives or a citizen's life."
In regards to the accusation that Bongiovanni lied in his report, Puglise said that he and his client "believe in transparency" and that "Mr. Bongiovanni welcomes an investigation and is looking forward to his day in court."
McDonald's attorney, Walt Britt, told the Daily Post that he and McDonald "have reviewed the notification as to the grand jury proceedings and the proposed indictment being proffered by DA's Office for consideration by the grand jury. We will notify the DA's Office prior to the grand jury's consideration if Mr. McDonald wishes to appear and testify."
Defendants in Georgia are allowed, though not required, to testify before a grand jury when they convene to consider an indictment.
However, a Georgia law passed in 2016 states that police officers facing criminal charges are subject to cross-examination if they choose to testify during grand jury proceedings and that a transcript, which the public will be able to read and have access to the evidence considered, will be created by a court reporter.
The law, which went into effect July 1, 2016, changed the way grand jury proceedings were handled for officers, who were previously given special treatment by being allowed to be present in the entire grand jury proceeding, listen to all the evidence against them and make a statement at the end that could not be challenged or questioned.
Georgia was the only state that allowed for this treatment for police officers facing possible criminal charges, though the law now treats them like any other witness.
Defendants are not penalized for not testifying and the grand jury is told not to consider a lack of testimony when making its decision.