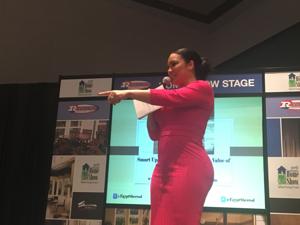 Braving the weekend rain, hundreds of Gwinnett residents turned out to the Infinite Energy Center Friday through Sunday to attend the 21st annual North Atlanta Home Show and Outdoor Living Expo.
The event, which featured representatives from kitchen and bath remodeling to flooring and home automation, was expanded this year to include an outdoor living area that featured landscape design, outdoor living, fire pits, outdoor lighting and more, which show organizers said was a successful choice.
"Each year, we do a visitor survey and some of the (favorites) are home automation — it's cool because it's new — and this year we added a lot of outdoor," said Julie Carson, a spokeswoman for the event. "Obviously, living in this part of the country, you can use your outdoor space a lot, so people want to see fire pits and water features, so we've got more of that. People always want kitchen and bath remodeling — that's always huge — and then we've got some exhibitors who have been with us for years, such as windows, which gets more and more energy efficient."
That efficiency was something Egypt Sherrod, host of HGTV's "Flipping Virgins," "Property Virgins" and "Urban Oasis," touched on when she spoke about "smart upgrades for your home" Saturday.
"You'd be surprised at how much you don't know about your home," she said, "and sometimes we learn the hard way — after something happens — what we should have been doing with our home. When we talk about basic requirements, think about what you would be looking for when you're on the market or what you did look for."
Some of those basic requirements include servicing a home's HVAC system — Sherrod said few people know that it should be serviced every year — changing air filters every season and having air ducts cleaned every other year.
"You're cooking and there's smoke and all the other things that accumulate over time," she said. "You're breathing this in every time it spins out from those vents, so it should be super important to get those air ducts clean."
Sherrod said homeowners shouldn't stop there, however, especially those who are thinking of putting their house on the market soon.
"People always ask me, 'What do you think are the smartest things I can do to upgrade my home?'" she said. "There are two words: kitchen and bathroom. You will always see a return — on average, about an 88 percent return — on kitchens and bathrooms. Not only are you enjoying it while you're there, but that's what buyers look for. Kitchens are the heart of the home, and kitchens sell homes."
Updating an older kitchen doesn't need to cost tens of thousands of dollars, though, Sherrod said.
"Say, for instance, you've got cabinets that are in pretty good shape," she said. "Maybe we paint them, add some new hardware — and at the bare minimum right now you need to have granite counter tops — and buyers always like to see energy efficient appliances. That's a smart upgrade because you can have a good quality of life while you're living there and (the appliances) are saving you money."
Hand-in-hand with energy efficiency is smart technologies for the home, Sherrod said, which includes smart thermostats, smart smoke detectors, smart door locks and even smart yard irrigation systems.
"More than 70 percent of home buyers out today are millennials," Sherrod said, "and the problem with these millennials is they've grown up on convenience and (technological) shortcuts. When polled, at least seven out of 10 millennials say that the expectation — not the wish, not the hope, but the expectation — for any house they're going to buy is that it's smart-home enabled and has smart technology."
But those smart devices need not break the bank, Sherrod said.
Smart thermostats, which cost around $250, actually save the consumer about $200 per year on electricity through their technology, Sherrod said, and smart irrigation, though one of the more expensive systems — it costs an average of $2,000 — saves on annual water bills, because water is not being wasted by using a hose to irrigate front and back yards.
Safety, too, is a big factor, Sherrod stressed.
"Two out of three in-home fire related deaths are due to improperly working or disconnected alarms," she said. "With these smart alarms, you don't have to worry about those batteries or them being disconnected. They can even tell between smoke from (burnt) cooking and actual fire."
Similarly, Sherrod said smart locks are becoming more popular due to their safety components.
She acknowledged, however, that many people are wary about getting the key-less locks for their homes and that it's one of the most polarizing technologies.
Still, she stressed that even if you're not thinking of putting your home on the market any time soon, these basic upgrades won't hurt.
"It's better to get out ahead," she said, "than have to lose money on (decreased) sale value later."