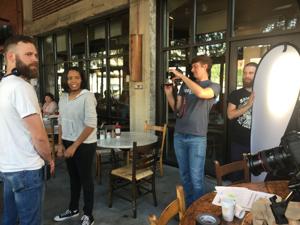 At age 19, most people are worried about choosing a major in college. For Mya Morton, her concern is getting ready for college graduation and focusing on the next step in her life.
Morton wants to become an actor, a passion she said began in middle school.
"My parents wouldn't let me act when I was in Kuwait, so once I graduated high school and my mother moved back to Kuwait, I started taking classes and going to auditions," Morton said.
Although she's still a teenager, Morton is wise beyond her years, something that can be attributed to the journey that has spanned more than 7,200 miles and will conclude in May with one short walk across the stage at Georgia State University's commencement.
Before enrolling in college, she moved across the world from South Georgia to Kuwait at age 7.
She enjoyed her time overseas, but wanted to return home and have a typical American high school experience. After her sophomore year, she moved back to Georgia with her mother and enrolled at Parkview High School.
"I didn't know a whole lot of people when I came here," Morton said. "This area is really big on sports, and I was really focused on other things other than sports. When I was given the opportunity to finish quicker, I took it."
Because of her school structure in Kuwait, she was prepared for the increased workload dual enrollment would bring and enrolled at Georgia Gwinnett College. In her senior year at Parkview, she not only finished up courses for her high school diploma, but also completed her elective courses for college.
After graduation from Parkview, she transferred from GGC to Georgia State University and moved to Atlanta.
She chose to major in sports administration after being exposed to it while a member of the Parkview DECA Club.
"I didn't even know it was a degree," Morton said. "DECA had a portion of it in sports business, and that was a path I thought I might want to go down."
Morton has fast-tracked her education by taking advantage of not only dual enrollment in high school, but also taking a full course load of summer classes each year.
"I wasn't a big fan of school, and in my last year of high school, I realized that I could potentially have four more years of school with college," Morton said. "That wasn't going to work for me, so I started taking a bunch of online classes."
Morton now has the chance to walk across the stage at graduation in May, rather than in 2020 like most students her age.
Graduating at a young age and being by herself is something she has embraced — she says she isn't worried by the thought of her parents and support system being thousands of miles away.
"I've always been a bit independent," Morton said. "My parents would work 12-hour days while I was younger, so I learned how to be by myself for a good amount of time."
Morton said she got serious about acting when she began school at Georgia State and moved into the city to get involved in the acting scene.
Shows like "The Walking Dead," "Stranger Things" and "Vampire Diaries" have been filmed in Atlanta, as well as movies like "The Hunger Games" and 2017 Oscar-nominated "Hidden Figures," making The Empire City of the South a busy place in the entertainment industry.
Looking ahead toward the future she wants to be in movies and plans on going and getting her master's degree in film.
"I want to be able to get into the filmmaking side," Morton said. "It's truly difficult to get into this industry. Everyone wants to act and be on TV, but if you can also direct and film, it makes you a more attractive person to work with."
She plans on taking a year off and devoting it to going to auditions and trying to perfect her craft of writing, shooting and acting in her own films before enrolling in a masters program.
"I'm going to try and get as far as I can in Atlanta, and then we'll see where it goes," Morton said.