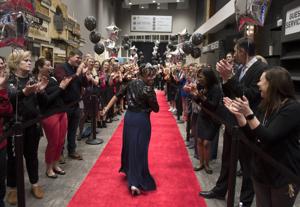 Limousines of all heights and lengths pulled up to the curb at Gwinnett Church, their headlights catching the sparkle of glitzy dresses, dazzling tiaras and crimson crowns.
Excited chatter filled the air as couples, trios and even groups of four lined up for what would have to suffice as their carriage rides — the dark black vehicles inviting the evening's royalty into their luxurious interiors.
Though they were not true monarchs, for one night — Friday, Feb. 9 — hundreds of local teens and adults with special needs were treated like kings and queens at Happy Feat's Night to Shine Prom 2018, a partnership between the local organization, Gwinnett Church and the Tim Tebow Foundation.
Started by Gwinnett resident Lucy Miller, this is the fifth year she has hosted a dance for people with special needs, though the third year that it was done as part of Tebow's Night To Shine Prom program.
"Happy Feat was established in 2014, which was my senior year at (North Gwinnett High School)," Miller said. "I started doing dances my sophomore year, though that was before I founded Happy Feat. I'd just get all my friends together and we'd get a group from the school and that's how it originally started. Then it got so big that we had to move to (Gwinnett Church) ans this is our third year (partnering) with Tim Tebow."
The evening, which spared no luxury, brought out at least 2,000 to the event, Miller estimated — about 500 special guests, or those with special needs, and about 1,500 volunteers.
"The involvement we have is just getting bigger and bigger," Miller said. "The volunteers are getting younger and it's a great forum to bring together the community."
That community was apparent as teens snapped selfies in the ballroom mid-dance, camera flashes lighting up the room as Earth, Wind and Fire's "September" boomed loudly through the speakers.
Down the hall, 16-year-old Joshua Tolbert sat with his three dates, Alli Landress, Kennedy Brock and Lana Puckett.
"I'm (doing this) because I wanted to be, like, the best prom date in the world," Tolbert said, "the best guy in the world. My (boutineer) is from my step mom."
Extending his feet, Tolbert examined his tuxedo pant leg, showing off his recently buffed patent-leather dress shoes.
"I most enjoy the dancing — it's nice," he said. "I got to go in the limo and it was nice, too — but I also like the red carpet and stuff. I have three dates — Alli, her and the other one."
Landress, Brock and Puckett laughed as Tolbert named them, Brock teasing the teen, "I'm the 'her?'"
Good natured, the girls smiled at their date, the three enjoying being "buddies" to the special guest.
"It's been fantastic — the best night of the year," Landress said. "I haven't done it before, but it's just great."
"It's fulfilling to know you're spending your night with someone who is so sweet and loving, like Joshua," Puckett added. "It's just really fulfilling to be here, because he deserves it."
Suwanee resident and event volunteer Lisa Glynn echoed the girls, remarking on the shift in perception about people with special needs from when she was a child.
"Back in the day when I was a kid, people with special needs weren't integrated in the schools," she said. "There was always this air of mystery of what that is, but now, with my kids growing up, they've gone to school with people who have physical or mental disabilities and I believe that whole bullying thing has really been depleted. I really think there's this sense of ownership the kids have to the kids with special needs."
That ownership is exactly what Miller hoped for when she first started the dances, her mother, Dawn Carr, said.
"She met a young man, David O'Callahan, when she was working with (people with special needs) and they've been to seven proms together," Carr said. "They met her freshman year of high school and have (been friends) since."
That friendship inspired Miller to found Happy Feat, which holds events and programs for people with special needs throughout the year.
But Miller said the prom is the highlight of the annual calendar and the event people most look forward to.
"Seeing everyone so happy and having so much fun is just my favorite part," she said. "Tonight is not only an opportunity for our (special) friends, but for our buddies. We're just including everyone and the inclusiveness is just awesome. The whole dynamic of the night is just about them, and it's just one night, but it's amazing. These buddies — and their special friends — will remember it for the rest of their lives."
As the Black Eyed Peas' "I Gotta Feeling" came through the speakers, the crowd of dancers erupted in cheers, teens and adults throwing their hands in the air.
With the lyrics "Tonight's gonna be a good night" ringing through the room and its surrounding hallways, it was most certainly an unforgettable one.
"Lucy always says, we think we're helping our special friends," Carr said. "But really, we're changing our community."