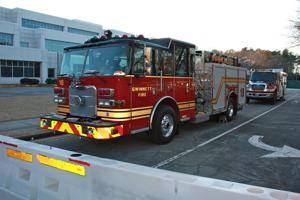 "Dad, yeah dad!" several firefighter-paramedic recruits shouted from their seats as Burton Holloway made his way to the podium, a smile spreading across his face.
Laughing, Holloway glanced up at his classmates, who, clad in white button-down shirts and black ties, occupied the first few rows of the Gwinnett Justice and Administration Center's auditorium.
"Thank you, Gwinnett County, for taking a chance on each one of us and for giving us the opportunity to become firefighters and paramedics," Holloway said, taking a somber tone. "What a journey this has been. We've spend 16 months learning, sweating, pulling each other along — sometimes figuratively, sometimes literally — laughing off hard workouts and (having) crazy experiences. But I'm proud of my classmates, and I'm proud of my friends."
On Thursday evening, the Gwinnett County Department of Fire and Emergency Services honored nearly two-and-a-half dozen men and women who recently completed the county's firefighter-paramedic program at a graduation ceremony held in the Lawrenceville building.
The graduates — 12 of whom were veteran firefighters who chose to complete the paramedic program and 16 of whom were new recruits — were joined by their family, friends and county staff at the ceremony, which stressed humility, service and lifelong learning.
"First and foremost, be humble — that is an incredibly important aspect of your job," said Fire and Emergency Services Medical Director Patrick McDougal. "Initially, you should be scared witless, though over time you will develop confidence, which is hugely important to being good at your job. But it's important to be honest when you don't know something, and with that, be a lifelong student, and be of service. You have to internalize that and ultimately, your goal is to be a servant to the citizens and visitors of Gwinnett County."
Though they joked with one another at the event, the class recognized the importance of that service and the necessity of the role they play as firemen and medics.
"I've always enjoyed helping people as much as I can," said Michael McField, a Miami native who traveled from Florida to work for Gwinnett. "I've just always seen myself as wanting to do something where I can impact people but learn something every day and do something new every day, and that's what drew me to the fire department."
"It's been a long, long dream (of his,)" added his aunt, Margarita McField, a Miami police officer. "He's been trying for this since he was 19, and now he's 32."
Echoing McField, Brandy Holloway smiled at her husband, their baby in her arms and two other children at her feet.
"It's been a long journey, but we're very proud of him and all (the graduates)," she said. "We're very happy for this opportunity and we know Gwinnett County is one of the best in the nation to work for. It's a lot of great training and other people want Gwinnett County employees, so we're very proud of him."