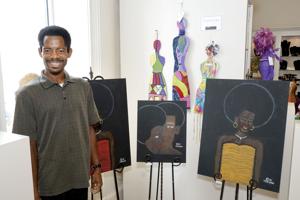 For some it's a way to let loose, for others, the practice of making art helps them deal with specific intellectual difficulties. But each client in the Creative Enterprises art program is a true folk artist according to the Lawrenceville nonprofit executive director Leigh McIntosh.
When the word folk art comes to mind, many picture vibrant cultural artifacts such as pottery, tapestries and woven blankets. A more contemporary understanding of the term emphasizes its relationship with self-education.
"A folk artist is someone who is self-taught, basically," McIntosh said. "They have not had any formal kind of training."
Founded in the 1970s, Creative Enterprises is an occupational learning center for adults with disabilities, and for many it is a college equivalent. The institution features an animal shelter, a thrift store and an art house where clients can hone their unique aesthetics.
Strolling past yellow sunflowers and a tiled mosaic above the door, an exhibit of diverse art styles and mediums are on display. Some of the canvases and other materials are donated, other works are made from scavenged cardboard and twigs.
In the corner are some of Sequoyah Margroski's paintings. Large, bright and colorful shapes are the basic form of Margroski's pristine works. In explaining his process, Margroski, who is the captain of a Special Olympics bocce team called the Jedi Masters, said he usually paints whatever comes to his head. Usually that is something from a horror or sci-fi films. He calls these works his "little monsters."
For many of the adults at Creative Enterprises, art is a way to express themselves where words fail. Margroski has trouble with verbal communication, but through his work he is able to convey his feelings and even earn an income.
Tojuan Hawkins is another one of Creative Enterprise's folk artists. The New York native lives in Lawrenceville on a farm with his parents. A generally social and confident personality, Hawkins admitted that change is hard for him. He enjoys regularity, and between his academics at Creative and helping with the many tedious chores at home he follows a tight schedule.
Hawkin's attention to detail is apparent in his work. His work can be described as Afrocentric, as he often emulates black artists or replicates family photos. Each of his paintings are distinguished by precise proportions and shades.
One of the more uncommon art displays is made by Bob Hartman. Walking sticks and boxes embellished with garage sale trinkets like old toys, Lego men and candy wrappers, are Hartman's specialty. He has buckets of the stuff in his sister's basement, enough for many creations to come.
"I get frustrated because there are so many things I need to do," Hartman said when asked about the satisfaction he gets from his work. "But I have to do it."
Those who keep an eye out might see some of the nonprofit's folk art around downtown Lawrenceville. For one, the Aurora Theatre's Christmas tree was decorated with hand-painted cat ornaments made from cardboard, that are reminiscent of the pets that are up for adoption at the Creative Enterprises animal shelter.
And the Lona Art gallery partners with the nonprofit from time to time. This past October, Lona hosted an art auction and fundraising event where client artists had the chance to sell their work. Margroski sold five paintings, according to his caregiver, Tameka James. Hawkins sold two paintings, his mother Gwendolyn Washington said.
A nine-year veteran to the program, art instructor Latricia Raffety finds creating art has a profound effect on each of the adults she works with.
"It helps people express themselves where words don't work," said Raffety, who instructs the classes on most days.
Often art helps them overcome specific challenges — for Margroski it's a way to calm down and form a perspective that allows him to work with others.
For Tojuan Hawkins, art is a major source of confidence. Through the medium of his paintings and sketches, he is able to share his passion and express his family loyalties.
The point with the art program, as with all programs at Creative Enterprise, is to showcase what the clients can do. Immersed in the flower power energy of their creative hub, these artists have exhibited an art form that cannot be taught or replicated at contemporary state of the art institutions or galleries.
"Coming up with their own ideas was the hard part, but once they did it, they truly became folk artists," McIntosh said of the adults she works with.